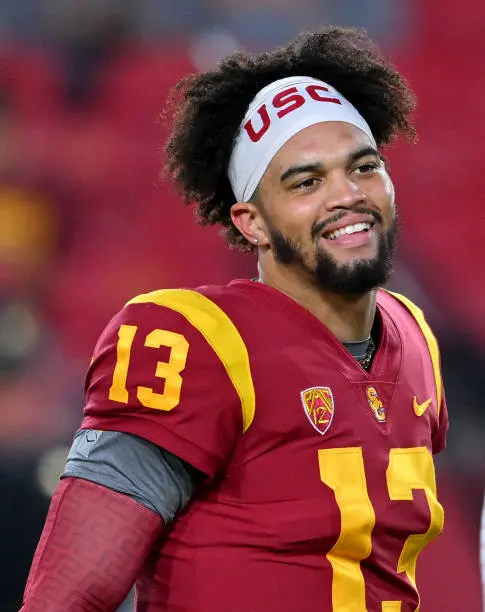 Besides Yoga, What Else has QB Caleb Williams Been Up To?
Reading Time:
3
minutes
First Round Mock's Victoria Jonach takes a look at USC quarterback (QB) Caleb Williams and his connection with yoga, along with the other things he's been up to in the business world.
Caleb Williams is undoubtedly one of the top prospects for the 2024 NFL Draft.
This USC QB is proving to have the athleticism, personality, and maturity to take his career to serious heights.
His partnership with Alo Yoga is just one example of this. The news of the endorsement came February 6 through an Instagram reel by their men's line @alomen.
What is Alo Yoga?
Alo Yoga specializes in attire perfect for Pilates, yoga, weightlifting, or any other form of exercise. They carry a selection of streetwear, accessories, cosmetics, and even equipment to make movement easy for everyone.
Just one day before news of the partnership, Williams appeared at NASCAR's Clash at the Colosseum. He served as the honorary starter of the event and appeared head to toe in Alo Yoga attire. Even his bandana was from the brand. Williams walked the red carpet, giving the clothing brand excellent publicity. However, he was also able to profit off his appearance, thanks to Name, Image, and Likeness rule changes in July of 2021.
The USC QB can be seen modeling their clothing in an Instagram post from their event on April 17.
"I have always been really into Yoga, been practicing it since high school." Williams shared with Boardroom. "It's an amazing whole body and mental workout, so being involved with a brand that I feel best represents that culture and more is awesome."
It is unclear exactly how much Williams has made with this partnership, but according to On3, his valuation currently is around $2.6 million dollars.
"NIL is a chance to really explore my different interests off the field while building my personal brand the right way," Williams shared with nildealnow.com. "Everything I've done so far in NIL has been focused on being authentic to my own personality and story. I'm not shying away from being different, and hopefully, that helps other athletes reimagine what they can do in this space."
Williams' additional achievements
Originally at the University of Oklahoma, Williams is claimed to have followed coach, Lincoln Riley to USC. He has had a wide selection of NIL deals to choose from throughout his time as a college football player. Williams has additional partnerships with Neutrogena, Fanatics, AT&T, Beats by Dre, Athletic Brewing Company and AC+ION Water.
As the reigning Heisman Trophy winner, he probably will also appear in Nissan's House of Heisman commercial campaigns like past winners.
Williams performance on the field speaks for itself. During his sophomore season, he ranked No. 1 in the country, thanks to 42 passing touchdowns and only five interceptions. He also accumulated 4,537 yards and rushed for an additional 10 touchdowns, On3 says.
"I'm looking forward to building on what we started last season and getting even better, Williams said to Boardroom. "[We] already have been back to work, so we are going to continue to keep grinding this whole offseason to get to where we need to be."
Any team would be crazy not to take this rising star, given the chance. Williams will probably be in high demand leading up to next year's draft.
The question is who will be lucky enough to land him.
Victoria Jonach is an aspiring writer and media analyst fascinated in what kinds of activities players participate in off the football field. Growing up in New Jersey, she is a New York Giants fan and attends Rutgers University, pursuing a career in Journalism and Media Studies. She writes for FirstRoundMock.com covering anticipated draft picks and their acts of volunteerism, entrepreneurship, and other interests that shape these individuals.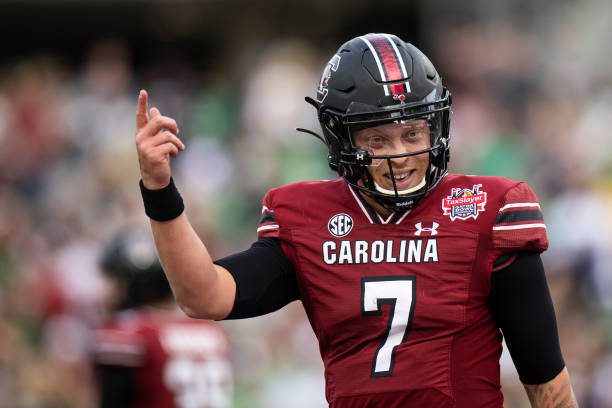 Reading Time: 3 minutes Find out what game film reveals about South Carolina quarterback Spencer Rattler.