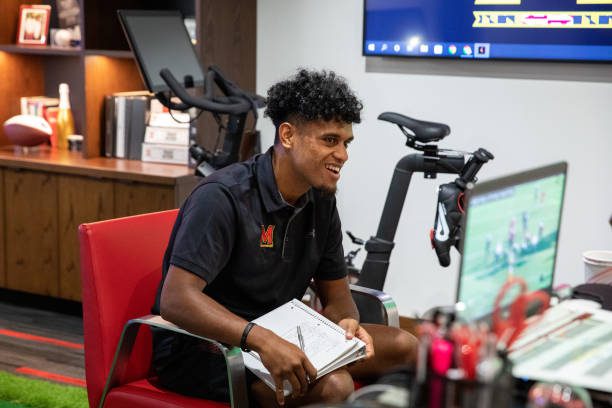 Is Taulia Tagovailoa Cut Out For the NFL?
Reading Time:
3
minutes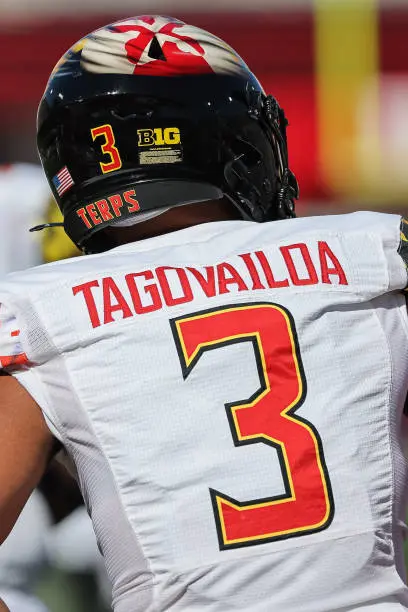 If the last name looks familiar, it's for a good reason since Maryland quarterback (QB) Taulia Tagovailoa is Dolphins' QB Tua Tagovailoa's little brother.
Does that mean that we should automatically assume the younger brother will be just like the older one?
No.
While they both have a lot in common, including being at the University of Alabama together once upon a time…
The younger Tagovailoa transferred to pave his own way.
Maryland?
While Tagovailoa offered polished reasoning why he left the Crimson Tide and went to play for the Terrapins instead, but I am not buying it.
It's like one of those telemarketing calls that has left me telling the rep, "I'll have to think about it."
Not that there's anything wrong with Maryland whatsoever, it's just most college football players would give up their left sock to play at Alabama under Head Coach Nick Saban. After all, Alabama has produced the second-most NFL Draft picks since 2000 according to ncaa.com (127).
The way the story goes (saturdaydownsouth.com), Tagovailoa's dad, Galu the decision was based on not having an opportunity to compete for playing time this offseason.
That was about the time QB Bryce Young stepped into the spotlight at Alabama, when Tagovailoa's older brother Tua left the school and became a first-round pick of the Dolphins.
What do I think?
It's educated speculation, but as someone who worked in the league, my gut tells me Tagovailoa didn't fell like he could win the starting job.
Game film confirms suspicions
The old saying in scouting is the "Game film never lies," and on this site, game film trumps everything.
It's interesting mentioning the younger Tagovailoa and Young in the same breath, because in a lot of ways on game film, they have similar abilities.
At first glance, it's uncanny.
Similarities:
-size
-athletic
-instinctual
-command of offense
-play with fluid tempo
-smooth ball handling
-high football IQ
-arm strength
-spread the ball around and make defenses work the whole field
-quarterbacks first, runners second
Differences:
-pocket mobility
-downfield ball placement
-ball security
These are some major differences.
Plus, Young throws an easier ball to catch consistently.
Ball security
I feel like we should camp out on on this topic with Tagovailoa because this is the biggest problem on this block of game film studied.
Defenders were able to disrupt his passes 19x in five games!
19x!
That's an average of 3.8x per game.
Not being able to take better care of throwing the football is going to automatically render the younger Tagovailoa to a back-up role at the next level.
Everything else he does well is wiped out by this flaw.
NFL teams cannot have a starting QB putting the ball in harm's way as often as he does.
Where does this leave him?
It leaves him as an intriguing developmental prospect.
Tagovailoa shows enough on film to deserve a No. 2 spot on an NFL roster.
I can't see him becoming a full-time starter based on his downfield ball placement and ball security issues, but he can be a serviceable backup provided he plays within himself.
His deep game isn't there either.
Tagovailoa is a game manager in the short to intermediate route range.
He's not a big play QB.
#3 Taulia Tagovailoa 5-foot-11, 200 pounds
Daniel Kelly's Spring 2023 Grade: Fourth-Round (I would select him)
Projected by 0% of the NFL Draft Community to be a first-round pick as of June 8, 2023 (nflmockdraftdatabase.com)
2022 game film reviewed: Purdue, Michigan, Ohio State, Penn State, and Michigan State (click to view games watched to form this evaluation)
2022 stats: 262/391 (67.0%), 3008 yards, 18 TD, 11 INT, 32 sacks, long-68
2024 NFL Draft Scouting Report
Pro-style competitive dual threat with inconsistent accuracy and decent playing speed. Determined to drive the offense downfield. Can create and extend somewhat. Sees the field well. Inconsistent progressions. Capable of quick decisions or buying time finding an open receiver. Effective rolling left or right. Poised, tough and does an excellent job maintaining downfield focus. Tendency to throw ill advised passes. Darting runner with some shake and bake.
What to watch for during the 2023 college football season
1. Ball security?
2. Ball placement?
3. Number of sacks?
4. Going through progressions?
Daniel Kelly is a former NFL Scout with the New York Jets. He was hired on the regime which featured Bill Parcells, Bill Belichick, Scott Pioli, Mike Tannenbaum, and Dick Haley. He is currently the Editor-in-Chief for First Round Mock and has written for Sports Illustrated Lions, Jets, and 49ers, as well as a featured guest on ESPN Radio and Fox Sports Radio. For more information about him visit his website at whateverittakesbook.com. He can be followed on Twitter @firstroundmock.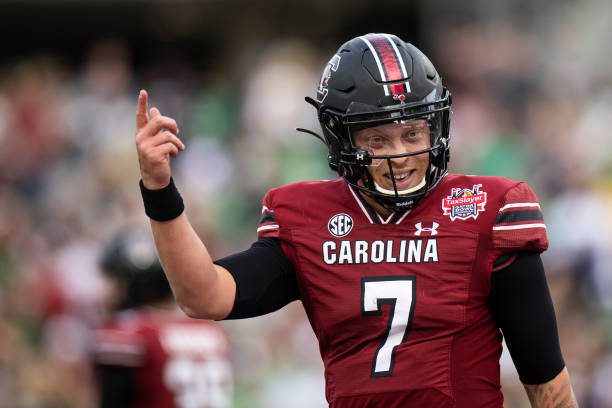 Reading Time: 3 minutes Find out what game film reveals about South Carolina quarterback Spencer Rattler.