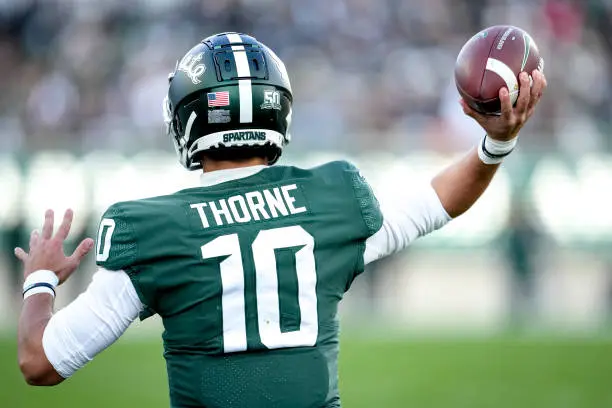 New Auburn QB Payton Thorne Produces Rough Game Film
Reading Time:
3
minutes
Michigan State quarterback (QB) transfer Payton Thorne has a new beginning at Auburn.
Well…he hopes he does.
Will changing helmets help?
Highly unlikely.
Thorne is a QB story that's been told a thousand times over – – touch passer with an average arm, inconsistent downfield ball placement, and limited mobility.
There aren't too many happy endings in the NFL fitting that description.
Actually, I can't think of any in the last 41 years since I started watching the game as a kid.
Ball security concerns
Let's cut to the chase on this one.
Thorne has the worst ball security of any QB I have seen so far in the 2024 NFL Draft class.
I couldn't believe how many defenders were able to disrupt his passes.
All told it happened 24x in this five-game block of game film.
24x!
That's a lot.
It's way too much.
That's an average of 4.8x per game.
QBs can't make a living in the NFL putting the ball in jeopardy that often.
Not to mention he fumbled twice on top of it.
Sitting duck in the pocket
His limited mobility doesn't help his cause.
Last season, Thorne rushed the ball 60 times for 42 yards (0.7 avg.).
Those are the times he managed to break free somehow and take what defenses gave him.
The rest of the time, he folded like a tent under pressure. It looked like he froze as pass rushers were closing in.
Thorne was sacked 18x in 2022.
Tell me something positive
Okay…okay…
Sure, everyone does something positive, and it's not all just negative.
Thorne's best attribute is throwing back shoulder intermediate route level passes squeezed against the sideline with a corner draping his receiver in coverage.
He really excels at throwing those touch passes.
Outside of that, he excels at throwing short to intermediate hook passes that help create a large enough throwing window to compensate for his lack of arm strength.
Inconsistent
This is the last word an NFL team wants to hear when it comes to QBs, but this is the word that best describes Thorne.
The reason he's inconsistent is for all the reasons I've stated.
Bottom line – – it's just hard to make it with an average arm and limited mobility.
If a QB is going to get by being a touch passer, he's got to consistently be on point, and Thorne is not.
Does an NFL team bring Thorne into camp?
Perhaps, if they need an extra arm for camp it's a possibility.
Outside of that, I can't see it.
I certainly do not see him making an NFL roster based on what he put on his football resume in these five games.
There's space in the league for developmental upside, but there's no room for someone who puts the football in harms way as often as Thorne has.
#1 Payton Thorne 6-foot-2, 210 pounds
Daniel Kelly's Spring 2023 Grade: UDFA – Undrafted Free Agent (I wouldn't select him)
Projected by 0% of the NFL Draft Community to be a first-round pick as of June 5, 2023 (nflmockdraftdatabase.com)
2022 game film reviewed (Michigan State Jersey No. 10): Wisconsin, Minnesota, Washington, Penn State, and Ohio State (click to view games watched to form this evaluation)
2022 stats: 242/387 (62.5%), 2679 yards, 19 TD, 11 INT, 18 sacks, long-72
2024 NFL Draft Scouting Report
Inconsistent pocket passer with limited running ability. Conservative nature. Leads with a sporadic rhythm and tempo. Good initial ball-handling skills. Very average pocket awareness. Can hold the ball too long. Poor escape. Easy target for pass rushers. Tends to lock in with receivers and pat the ball pre-delivery. Mixed bag of accuracy short and intermediate. Inconsistent placement. A lot of dink and dunk passes. Really has to step into intermediate throws and doesn't always produce a tight spiral. Deep game leaves a lot to be desired. Tendency to overthrow deep. Mediocre and reluctant runner.
What to watch for during the 2023 college football season
1. Ball security?
2. Number of sacks?
3. Deep ball accuracy?
4. How does his arm strength look?
Daniel Kelly is a former NFL Scout with the New York Jets. He was hired on the regime which featured Bill Parcells, Bill Belichick, Scott Pioli, Mike Tannenbaum, and Dick Haley. He is currently the Editor-in-Chief for First Round Mock and has written for Sports Illustrated Lions, Jets, and 49ers, as well as a featured guest on ESPN Radio and Fox Sports Radio. For more information about him visit his website at whateverittakesbook.com. He can be followed on Twitter @firstroundmock.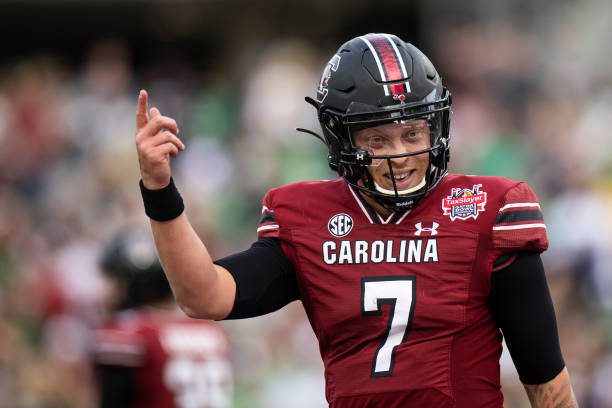 Reading Time: 3 minutes Find out what game film reveals about South Carolina quarterback Spencer Rattler.