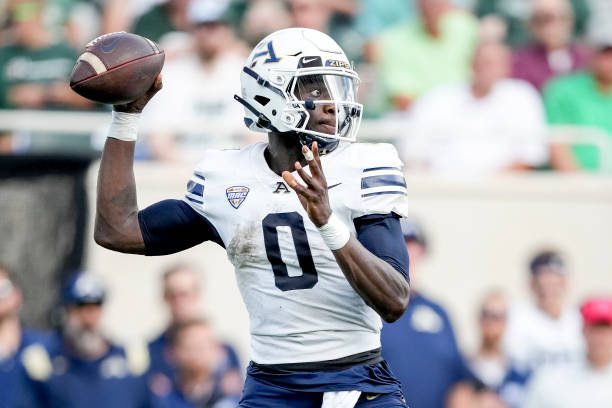 Akron QB DJ Irons on NFL Draft Radar?
Reading Time:
3
minutes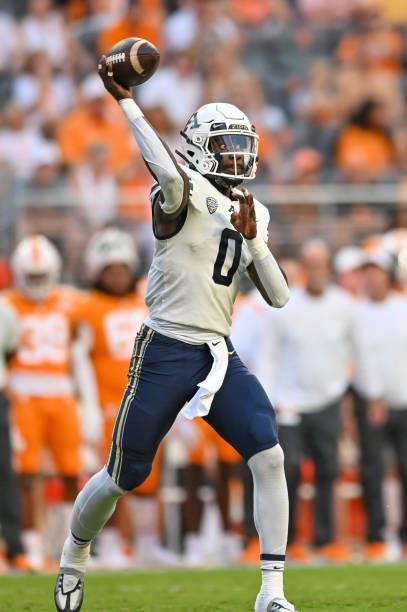 Akron quarterback (QB) DJ Irons is 6-foot-6, 205 pounds and has a strong right arm.
Those attributes alone make him a prospect worth watching in the 2024 NFL Draft class.
Some who have seen Irons play at Akron know of the arm talent he has, and for sure two ranked teams Irons played last season also know him.
It's one thing to put up numbers against lower levels of competition, but Tennessee and Michigan State don't fit that category.
Performance against ranked teams
Level of competition is a piece to the evaluation puzzle.
It's not a huge factor, but it is a factor, and that's what makes Irons somewhat intriguing.
Tennessee (No. 15) and Michigan State (No. 12) were both two highly ranked teams Irons faced.
How did he fare?
This Akron QB actually held his own. Granted, you wouldn't know it by looking at the scoreboard.
Tennessee 63 – Akron 6
Michigan State 52 – Akron 0
However, despite being injured halfway through the second quarter against the Spartans, Iron's stat line was a proverbial silver lining in these clouds of defeat.
All told, his combined stats for these two games 41-57 for 364 yards, 0 TD and 0 INT.
Regardless of the fact Akron has lost 16/18 games over the past two seasons with Irons at the helm, Irons looked like he belonged on the field against these two college powerhouses.
Concerns?
Sure, there are additional concerns, for starters, 18 passing TD's in these 18 games.
Is this more of a reflection of Akron's talent level or more of a reflection of Iron's ability?
Probably a little of both.
In only one game studied, against Bowling Green, did he have a "breakout game" in 2022.
He tossed three TD's in that one.
However, at the end of that game, on 4th and 6, down 31-28, he failed to come through and misfired.
It appears Irons is better between the 20's, and may very well lack the mental toughness it takes to drive his team into the end zone and come through when pressure increases.
He may very well have all the tools…
Well, sort of.
Ball security
This is the other huge concern with Irons…
In this four-game block of game film, defenders were able to disrupt 14 of his passes that I charted (3.5 per game avg.).
No question, ball placement and ball security is an issue with Irons.
Further illustrating this point, he has pitched 11 interceptions to go along with his 18 touchdowns during the past two seasons.
He does throw some dangerous passes and even the television announcers say it. Some of them are picked off and others fall harmlessly to the turf after a defender touches it.
Where does this leave Irons?
Scouting is like an investigation.
There's a lot to like with Irons…
He has the size, the arm strength and athleticism NFL teams dream of.
However, the math doesn't add up on this one, because of the stated issues.
Right now, it all equals maybe a late round flyer because of his raw attributes.
#0 DJ Irons 6-foot-6, 205 pounds
Daniel Kelly's Spring 2023 Grade: Seventh-Round (I wouldn't select him)
Projected by 0% of the NFL Draft Community to be a first-round pick as of June 9, 2023 (nflmockdraftdatabase.com)
2022 game film reviewed: Tennessee, Michigan State, Liberty, and Bowling Green (click to view games watched to form this evaluation)
2022 stats: 253/379 (66.8%), 2605 yards, 10 TD, 7 INT, 42 sacks, long-80
NFL Comparable: Andre Ware
2024 NFL Draft Scouting Report
Athletic with a strong arm and average placement. Fancy ball handling skills. High football IQ. Relative quick decisions. Inconsistent progressions. Poised. Despite a high number of sacks taken, has pocket awareness, can evade and sometimes deliver short passes under pressure. Was able to throw it away to avoid some sacks. Downfield minded. Best throwing into the middle of the field. Drives tend to bog down. Shows emotions and that football is important to him. Good runner for his size with some shake and bake to make a defender miss in the open field.
What to watch for during the 2023 college football season
1. Wins and loses?
2. Touchdown production?
3. TD-to-INT numbers
4. Ball security?
Daniel Kelly is a former NFL Scout with the New York Jets. He was hired on the regime which featured Bill Parcells, Bill Belichick, Scott Pioli, Mike Tannenbaum, and Dick Haley. He is currently the Editor-in-Chief for First Round Mock and has written for Sports Illustrated Lions, Jets, and 49ers, as well as a featured guest on ESPN Radio and Fox Sports Radio. For more information about him visit his website at whateverittakesbook.com. He can be followed on Twitter @firstroundmock.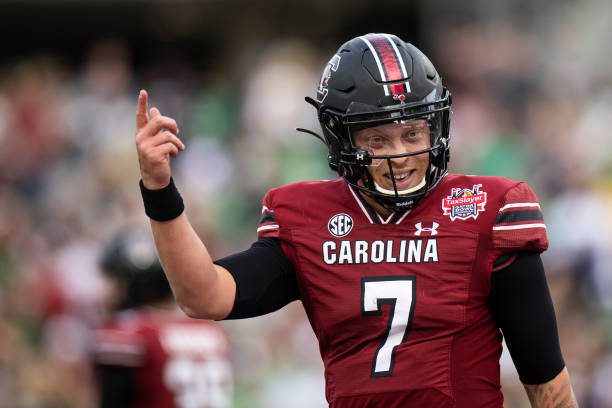 Reading Time: 3 minutes Find out what game film reveals about South Carolina quarterback Spencer Rattler.