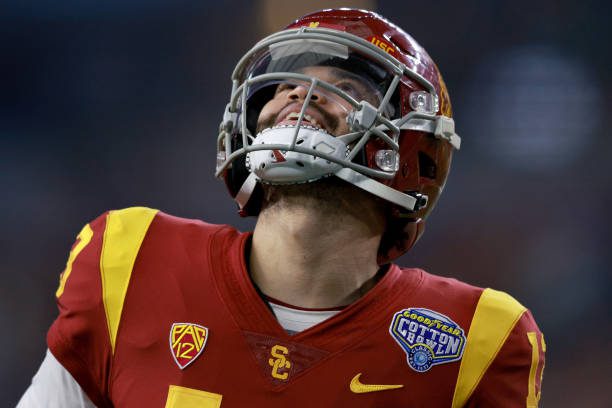 The Next Big Thing? Caleb Williams, QB, USC
Reading Time:
3
minutes
First Round Mock's William Yanish gives USC quarterback (QB) Caleb Williams one of the lowest grades anyone has dared to give him – – based on the game film.
They've always said that the NFL is a copycat league.
Every time something works, the whole league tries the same approach.
It was true with 49ers' QB Joe Montana and the West-Coast Offense that took the league by storm some years ago. Now, we are all the way up to the QB of the Kansas City Chiefs, Patrick Mahomes and his playground style of football.
Many have tried. When it truly comes down to it, a copy just isn't quite as sharp as the original.
Caleb Mahomes?
Mahomes can do things that only Mahomes can do…
His style is unique to him as an individual.
There's all the off-platform throws, and the playground drops that feature launching the football without setting his feet.
It's simply a whole different brand of football.
Whether it's a fad, or the new standard, it will stay around as long as Mahomes is having success doing it.
For sure, it will stay around until the next big thing.
Williams is the next in line to try to continue this "Mahomes approach" to the game and many have drawn the comparison…
He stands at 6-foot-1 and 215 pounds, and he is another transfer portal veteran as he followed his head coach from the University of Oklahoma to USC.
The Yanish Report
Adequate arm, not overly strong. Accuracy and ball placement are okay on short and intermediate routes. Deep ball placement and accuracy is bad. Mechanics and footwork have gone out the window. Off-platform throws are inaccurate. Gets rattled. Tons of tipped passes. Clutches the ball too long. Tunnel vision. Stares down receivers. Good mobility. Great speed and acceleration. Climbs and dances through the pocket. Not great in the red zone. Shies away from contact.
For the win
#Generational
#TopQBProspect
#TheNextPatrickMahomes
#Superstar
There are no shortage of tags placed on Williams.
The thing of it is – – these tags are simply not true.
The loss of wide receiver Jordan Addison (drafted by the Vikings) will affect him, and if his running back Austin Jones isn't there to bail him out, Williams isn't special.
In my humble opinion, Williams spent more time painting his fingernails than he did trying to defeat Utah in the PAC-12 Championship.
Looking at his background, he puts up big numbers, but he just can't win the big games. USC finished off 2022 with losses in the PAC-12 Championship game vs Utah and a Cotton Bowl loss to Tulane.
Williams is not the QB that I would build a team around. It takes heart to win.
That is the name of the game.
My BIG three questions
1. Will he be able to finally stop Utah and win the PAC-12 Championship?
2. Can he improve his work ethic to take the next step as a QB?
3. Will he be able to overcome the end-of-season losses?
How Williams stacked up and game film reviewed
My Draft Value: Third-Round (and I'm being generous)
Game Film Evidence
Oklahoma 2021 (Jersey No. 13)
USC 2022 (Jersey No. 13)
William Yanish III is a life long football fan. He's from the little town of Crawford, Colorado. Along the way, he's lived in Dutch Harbor, Alaska and Brookings, Oregon. Quarterback Joe Montana was his idol growing up. A little bit of CTE from life's adventures killed his dreams as a football player. Now, he is an aspiring writer and Draft Analyst at FirstRoundMock.com. He's a fanatic with a dream, which is coming true.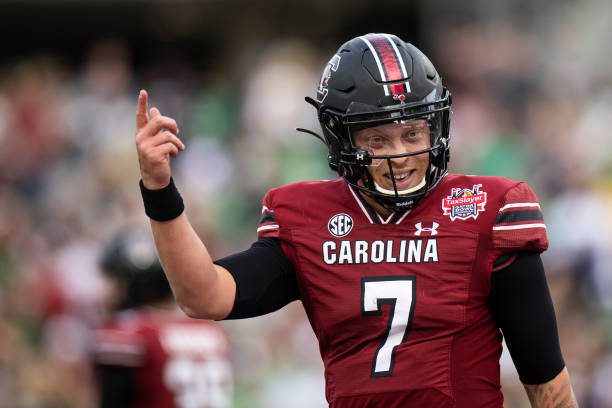 Reading Time: 3 minutes Find out what game film reveals about South Carolina quarterback Spencer Rattler.