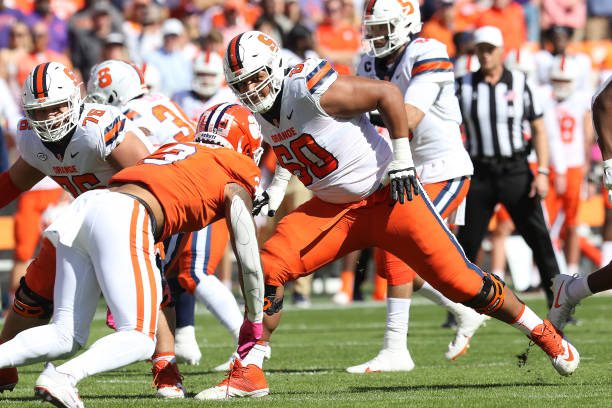 Matthew Bergeron Has First Round Feet
Reading Time:
3
minutes
The first thing that stuck out to me on game film about Syracuse's Matthew Bergeron was his feet.
That may sound kind of strange, but I am talking about how fast this left tackle looks on game film.
Specifically, I am referring to his awesome lateral foot speed.
The first thought I had while watching Bergeron was, "Walter Jones," who I haven't thought about in years. Jones was selected in the 1997 NFL Draft (No. 6 overall) and went on to become a 2014 Hall of Fame Inductee.
When a Hall of Fame talent flashes through your mind while watching a prospect on game film, it's probably a good idea to pay attention.
I'm not going as far as to compare Bergeron to Jones (6-foot-5, 325 pounds), but he does have elite feet, and elite feet translate to the first-round.
Footwork on the perimeter
Playing left tackle in the NFL means lining up against the premiere pass rushers, week in and week out. Often, the assignment calls for protecting the quarterback's blindside (if he is right-handed).
Because of that, left tackle in the NFL is a premium position, and the position calls for having the ability to dance on the perimeter of the pocket like a 300+ pound ballerina.
Bergeron tips the scales at 325 pounds – – and yes – – he can dance like that.
This Syracuse lineman slides up and down the perimeter of the pocket like he's being controlled by a video game joystick.
While there are a couple of deficiencies that weighed heavily on my mind during the grading process, there is absolutely no substitute for having this kind of footwork and foot speed.
Bergeron has the second-best and fastest feet of any tackle in this draft next to North Dakota State's (NDSU) Cody Mauch.
What are those deficiencies?
Bergeron's biggest weakness is anchoring in pass protection.
He has a very average anchor, which is the ability to drop his weight and hunker down against authoritative bull rush attempts by defensive linemen.
While he gave it everything he had to give, he could yield some ground into the pocket, and sometimes he got bullied right back into the quarterback.
Once in a while, Bergeron can stop moving his feet also when engaged at the back door of the pocket in pass protection, which can cause issues.
How does Bergeron look at run blocking?
For an athletic blocker who lacks pure lower-body strength, surprisingly well.
This Syracuse prospect is an excellent leverage and positional run blocker, and what he lacks in pure weight-room power, he makes up for with a really aggressive demeanor.
Bergeron pancaked quite a few defenders with leverage from the side, and he often was able to do just enough to spring runners.
What does the game film say about this draft class?
Who are my top four first-round left tackles in the 2023 Draft?
–Cody Mauch (NDSU)
–Anton Harrison (Oklahoma)
-Matthew Bergeron (Syracuse)
–Broderick Jones (Georgia)
What? Where's Northwestern's Peter Skoronski and Ohio State's Paris Johnson Jr.?
A deep game dive on game film shows the four names listed have better footwork – – and when going up against the NFL's fastest pass rushers coming off that side of the line – – that's what it's all about.
#60 Matthew Bergeron 6-foot-5, 322 pounds
Daniel Kelly's Final 2023 NFL Draft Grade: First-Round (I would select him)
Projected by: 10.1% of the NFL Draft Community to be a first-round pick as of March 10, 2023 (nflmockdraftdatabase.com)
First Round Mock Big Board: TBD
Bust Probability: Moderate
2022 game film reviewed: Notre Dame, NC State, Louisville, Clemson, Virginia, and Purdue (click to view games watched to form this evalaution)
Level of competition: High
Note: In 2020 saw 195 snaps at right tackle (pff.com)
2023 NFL Draft Scouting Report
Athletic high-effort hyperactive left tackle with an aggressive streak who is light on his feet and excels in pass and run blocking. Average playing strength. Fast first step outside in pass protection. Inconsistent hand placement at the point of attack. Moves with ease. Good job shielding the pocket most of the time. Susceptible to bull rushes. Alert and will help out. Smart-looking player who picks up stunts and blitzes well. Lightning fast reactions. Struggles getting movement head-on run blocking, but shows understanding of the art of leverage. Excels at positional blocking. Often did enough or just enough to get the job done. Canadian-born player with a lot of upside.
Final Words
Bergeron is built to handle today's best speed rushers in the NFL.
Daniel Kelly is a former NFL Scout with the New York Jets. He was hired on the regime which featured Bill Parcells, Bill Belichick, Scott Pioli, Mike Tannenbaum, and Dick Haley. He currently writes for Sports Illustrated New York Jets and he is the Editor-in-Chief for First Round Mock. For more information about him visit his website at whateverittakesbook.com. He can be followed on Twitter @firstroundmock.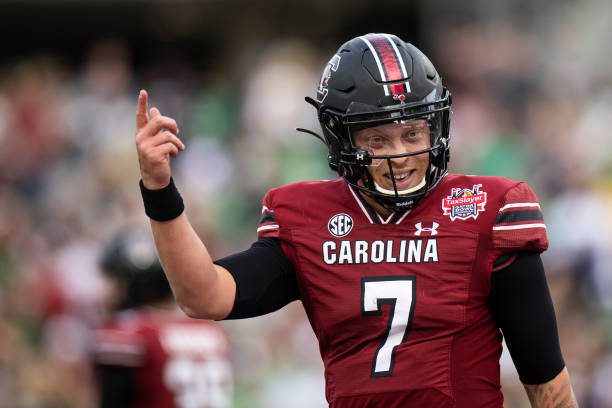 Reading Time: 3 minutes Find out what game film reveals about South Carolina quarterback Spencer Rattler.