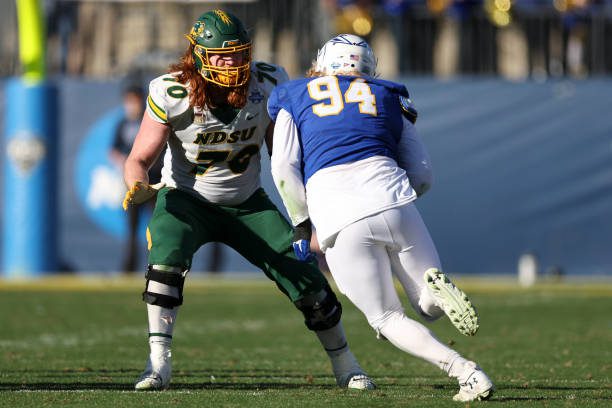 Senior Bowl Locks Cody Mauch LT1 2023 NFL Draft
Reading Time:
3
minutes
North Dakota State University's Cody Mauch is a throwback, who could've played in any era.
This left tackle (LT) reminds me of a faster version of my favorite offensive lineman of all time, Redskins' LT Joe Jacoby, who was nicknamed, "Highway 66," because of how he paved the way.
While I've already put a final first-round grade on this Bisons' prospect, "Former NFL Scout Stamps LT1 on Cody Mauch," but I had to make sure in the 2023 Reece's Senior Bowl.
I'm sure.
Senior Bowl practices
One piece to the puzzle in evaluating is making sure to contemplate the prospects' level of competition he played against.
Mauch played in the Football Championship Subdivision (FCS), which is known not to be as high of a talent level in college football as the Football Bowl Subdivision (FBS).
The rule of thumb I learned was if you liked a prospect from a smaller school, he needed to look like a "man amongst boys" where he played.
✓Mauch
It kept playing on my mind how he would look against a higher level of competition?
Senior Bowl week answered that question.
Overall in the practices, Mauch moved well laterally and he looked the part (green helmet).
Senior Bowl game
Mauch spent time in the Senior Bowl at left guard, center and right tackle, excelling at every position.
All this does is add value to his grade.
Having that kind of versatility is as rare, as it is valuable.
The thing that stood out again in this game, just like it did in the regular season, was Mauch's pure football speed is phenomenal, and it covers up for when he overextends and for his slight rigidity.
Mauch the fastest left tackle I've seen in 41 years.
Toward the end of the 3rd quarter, he showed off that foot speed by sealing off a defensive lineman on an inside run. That's not easy to do from where Mauch lines up. Around the same timeframe, he got beat slightly on an inside pass rush, but showed the mindset and speed to recover.
How is it Mauch is not considered a left tackle in the NFL?
I keep hearing people saying he's going to be a guard at the next level.
My best advice, turn on the game film.
Left tackle in the NFL is all about footwork, and after studying all the "top-rated" left tackles in this draft class, Mauch's footwork in pass protection is superior to Northwestern's Peter Skoronski, Ohio State's Paris Johnson Jr., and Georgia's Broderick Jones.
It's not even close.
I wonder, is it because he's from a smaller program?
No, that can't be, because in 2021, everyone (but me) went wild for quarterback Trey Lance from the same school and the 49ers traded three No. 1 picks to take him No. 3 overall.
Extra work
Because this question is so baffling to me, I went back for an additional eight hours and studied three more of Mauch's games from 2022.
Now I'm sure that I'm sure that I'm sure.
#70 Cody Mauch 6-foot-6, 303 pounds
Daniel Kelly's Final 2023 NFL Draft Grade: First-Round (Top 15 and I would select him)
Projected by 8.3% of the NFL Draft Community to be a first-round pick as of February 14, 2023 (nflmockdraftdatabase.com)
First Round Mock Big Board: TBD
Bust Probability: Low
2022 post-season game film reviewed: UIW (NCAA FCS Semifinal), Montana (NCAA FCS Championship Second Round), South Dakota State (NCAA FCS Championship Final), and the Senior Bowl (click to view games viewed to form this evaluation)
Level of competition: Moderate
2023 NFL Draft Scouting Report
Versatile and tenacious blocker with long arms and blue-chip footwork and foot speed. Hardcore want. Brings it every snap. Athletically handles most reps with ease in pass pro. Good looking set up. Maintains a well-balanced wide base. Slides around laterally. Rarely crosses over. Has to watch not setting up too shallow in the pocket at the point. Shows powerful upper strength while shielding the perimeter. Handled spins and stunts. Gets after it run blocking. Finisher. Good positional blocking sealing off lanes. Kicks ass drive blocking. Punishes linebackers and defensive backs. Inconsistent inside sustain. Dominant pulling. Gets to the second-level (and downfield) with ease, but hit-and-miss in space. Gets visibly fired up.
Final words
If I'm an NFL general manager, this my franchise left tackle. The thing that makes Mauch special is even when he's getting beat on rare occasion, he shows he has what it takes to recover.
Daniel Kelly is a former NFL Scout with the New York Jets. He was hired on the regime which featured Bill Parcells, Bill Belichick, Scott Pioli, Mike Tannenbaum, and Dick Haley. He currently writes for Sports Illustrated New York Jets and he is the Editor-in-Chief for First Round Mock. For more information about him visit his website at whateverittakesbook.com. He can be followed on Twitter @firstroundmock.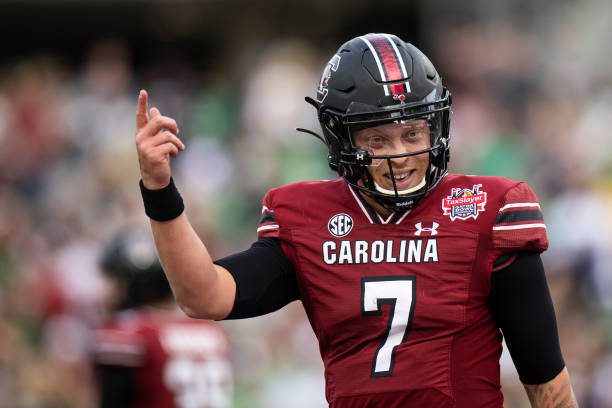 Reading Time: 3 minutes Find out what game film reveals about South Carolina quarterback Spencer Rattler.