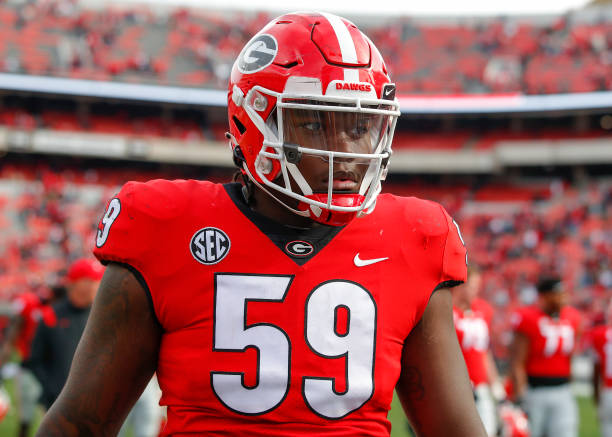 NFL Teams Need to See This Before Drafting Broderick Jones
Reading Time:
3
minutes
There is no question Georgia offensive tackle Broderick Jones is extremely athletic and very aggressive.
There is also no question Jones looks raw – – really raw on game film in pass protection and as a run blocker.
This was a concern on his 2021 game film, "Bulldogs' Broderick Jones: Not An NFL Franchise Left Tackle," and it showed up again on his 2022 game.
Jones reminds me of a raw version of former Washington Redskins' six-time Pro Bowl left tackle, Chris Samuels, but please don't get carried away with that loose comparison.
There's work to be done.
Unpopular opinion
Sports Illustrated, USA Today, SBNation, The 33rd Team, Newsday, Pro Football Network, Draftwire, CBS, Bleacher Report, Sportsnaut, NBC Sports Chicago, and the San Diego Union-Tribune have all tagged Jones with a first-round grade since New Year's Day.
Respectfully, I'm not seeing his value being quite as high as some of these platforms.
Yes, Jones is one heck of an athlete, who's super aggressive and gives a high effort level. I love all that about him.
He just looks so raw and borderline out of control sometimes guarding the front and back doors of the pocket.
Teams need bodyguards – – not doormen
Jones has the mentality of a vicious linebacker who plays tackle like a guard who's filling in. He got beat badly twice against Florida at the back door (once he got spun around like a top).
I think this "Boxing Blocker" will face a real challenge at left tackle as a rookie, but it's hard to bet against his high level athleticism, aggression and effort
Pushing and shoving his way into the NFL
Jones' run-blocking technique is "different" too.
He is good at initially pushing and shoving to set running lanes at the point of attack.
From there, he really struggles to sustain his blocks and control defenders.
Jones pulls and moves around at the second level (where the linebackers reside) with ease, and he even delivers an occasional devastating "shot" and knocks a defender clear off his feet.
He does just enough sometimes, and sometimes he doesn't. By no means, is he a dominant run blocker.
Jones – – far from being a finished product?
Normally, for me to put a first-round grade on an offensive tackle, he's got to be a polished "plug-and-play" prospect (like Northwestern left tackle Rashawn Slater in 2021).
I am going to make the exception with Jones because I love the way he plays the game and I think his aggressive demeanor moves the meter. What he lacks in technique he will be able to compensate with his high level of aggression and effort.
Jones has a defensive mentality as an offensive player and I put a big premium on that
He's going to need coaching – – coaching – – and even more coaching with his feet and run-blocking sustaining skills.
#59 Broderick Jones 6-4, 310 pounds
Daniel Kelly's Final 2023 NFL Draft Grade: First-Round (I would draft him at the end of the first-round No. 25 or after)
Projected by 65.2% (up from 34.7% on October 19) of the NFL Draft Community to be a first-round pick as of January 13, 2023 (nflmockdraftdatabase.com)
First Round Mock Big Board: TBD
Bust Probability: Moderate
2022 game film reviewed: Tennessee, South Carolina and Florida (click to view games watched to form this evaluation)
Level of competition: High
2021 stats: Started 4 games. 67.5 overall grade (pff.com). Gave up 5 hurries, 1 QB hit, 2 sacks (nfldraftbuzz.com)
2022 stats: Jones saw action in 13 games and totaled 805 snaps. He gave up a solid 8 QB hurries, one QB hit, and no sacks while playing at left tackle (nfldraftbuzz.com)
2023 NFL Draft Scouting Report
High-effort athletic bully with long arms and good playing strength who shows glaring inconsistencies in technique both in pass pro and run blocking. Active setting up in shallow depths and looks to absorb at the point and battle. Ends up chasing to the backdoor too often. A little light in the backside when giving up some ground versus bull rushes. Can end up surrendering control and chasing after pass rushers who press the edge hard. Can flow with obvious inside attempts. Quick reactions to stunts. Better in pass pro than run blocking. Sparring type of run blocker who pushes and shoves a lot to create and seal lanes initially. Below average sustain. High upside overall.
Final words
He will require patience as a rookie, but he has the chance to be special if he is open to coaching.
Daniel Kelly is a former NFL Scout with the New York Jets. He was hired on the regime which featured Bill Parcells, Bill Belichick, Scott Pioli, Mike Tannenbaum, and Dick Haley. He currently writes for Sports Illustrated New York Jets and he is the Editor-in-Chief for First Round Mock. For more information about him visit his website at whateverittakesbook.com. He can be followed on Twitter @firstroundmock.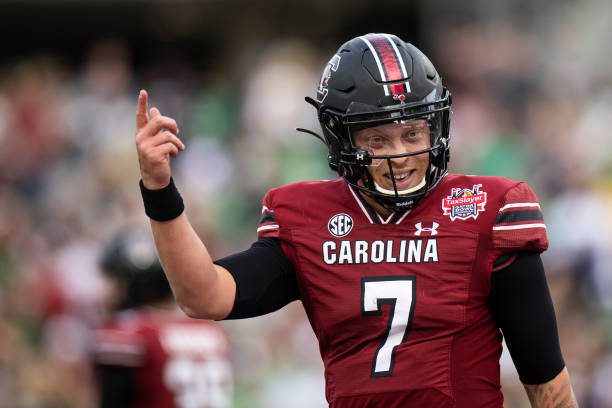 Reading Time: 3 minutes Find out what game film reveals about South Carolina quarterback Spencer Rattler.