Is Bryan Bresee a 3 Down Defensive Lineman in the NFL?
Reading Time:
3
minutes
At first glance on game film, Clemson's Bryan Bresee [pronounced bruh-ZEE clemsontigers.com] creates an interesting dilemma.
This Tigers' defensive lineman is as stiff as a board moving around, and normally those guys get selected in the later rounds, if they're lucky.
However, it doesn't end there for Bresee.
Pass rushing specialist
He creates a lot of disruption in the pocket, and in today's NFL, that's what it's all about.
Bresee is like an avalanche with building speed, who loves to press the gaps hard. He has this signature swim move that allows him to blow up the pocket in no time.
If you don't believe me, turn on the North Carolina game (embedded below). This Tigers' defender spent about as much time in the pocket as their quarterback did.
My earlier article left me with questions, "Is Clemson's Bryan Bresee Disruptive Enough?"
His late season performances answered that, and the answer is yes.
What else does he show on game film?
Despite being a no-non sense defender who is extremely quarterback minded, surprisingly, Bresee showed quite an array of pass-rush moves.
Not only does he have that lightning fast swim move, but in addition, he flashed spin, slap and rip moves.
Granted, he's so rigid in his movements, a lot of it is harmless, but none-the-less, he showed these moves too.
The big thing is because Bresee is so darn disruptive with that deceptive quickness, he draws a lot of attention and double teams.
While he tries his hand at bull rushing, he's totally non-explosive at the point due to his rigidity, so that is ineffective. In fact, he can look downright soft in this situation.
It's the gaps where Bresee will make his money in the NFL.
Who does Bresee bring to mind?
He's like a modern day version of Redskins' defensive tackle Dave Butz (God rest his soul), who I grew up watching.
Butz was a two-time Super Bowl Champion, he made a Pro Bowl, and he was named to the "70 Greatest Redskins" of all-time.
While it's a totally different brand of football today, compared to the smash-mouth run game era Butz banged around in, but like Butz, Bresee is a brute who loves to throw his weight around.
Only in the passing game instead.
Any negatives we should know about?
Bresee is an every other series rotational pass-rushing specialist who is below average against the run.
All told, I watched six of his eight games this past season, and consistently, I didn't like what I saw out of Bresee as a run defender.
It's not because Bresee shies away from the run game, but he's just so stiff, that making quick adjustments is out of the question.
Not to mention, he showed questionable instincts against the run.
What is his draft board value?
This one is tricky.
While I do see Bresee as a first-round pass rusher, I do not see Bresee as an effective three-down full-time defensive lineman in the NFL. His past ACL injury also weighs in.
I like Bresee as an extremely talented role player who comes in on passing downs and terrorizes quarterbacks.
#11 Bryan Bresee 6-foot-5, 305 pounds
Daniel Kelly's Final 2023 NFL Draft Grade: First-Round (I would select him)
First Round Mock Big Board: TBD
Bust probability: Moderate
Projected by 92.9% (down from 95.3% November 8) of the NFL Draft Community to be a first-round pick as of February 16, 2023 (nflmockdraftdatabase.com)
2022 game film reviewed: North Carolina, Syracuse, and Tennessee (click to view games watched to form this evaluation)
2021 stats: 13 tackles (6 solo, 7 assists), 1.5 sacks, 1 INT. in four games played before suffering a torn ACL in late September, 2021
2022 stats: 15 tackles (9 solo, 6 assists), 3.5 sacks, 1 pass defended in eight games played.
Note: Generated 60 pressures over three college seasons (pff.com)
2023 NFL Draft Scouting Report
One dimensional interior lineman who plays with extreme power, but also really lacks bend. In passing situations showed good initial quickness and is opportunistic shooting straight-line gaps quickly and creating pressure. Really struggles adjusting in the pocket. Gets stalemated straight-up against solo and double teams. Indirect affect on the run game struggling to get off blocks or adjust quickly enough to make a direct difference. Tries to guess right in the gaps at times. Can lose track of the ball and play direction.
Final words
I just can't get over how stiff he looked on game film.
Daniel Kelly is a former NFL Scout with the New York Jets. He was hired on the regime which featured Bill Parcells, Bill Belichick, Scott Pioli, Mike Tannenbaum, and Dick Haley. He currently writes for Sports Illustrated New York Jets and he is the Editor-in-Chief for First Round Mock. For more information about him visit his website at whateverittakesbook.com. He can be followed on Twitter @firstroundmock.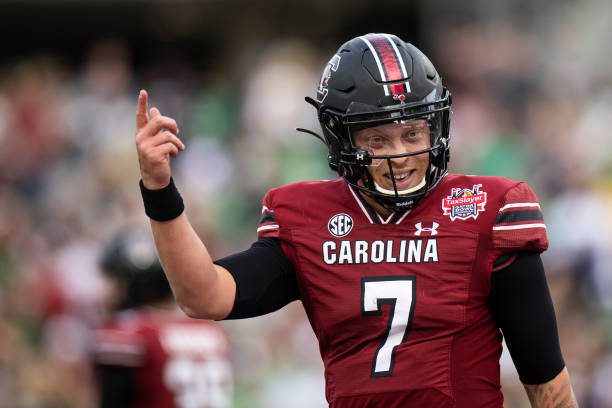 Reading Time: 3 minutes Find out what game film reveals about South Carolina quarterback Spencer Rattler.