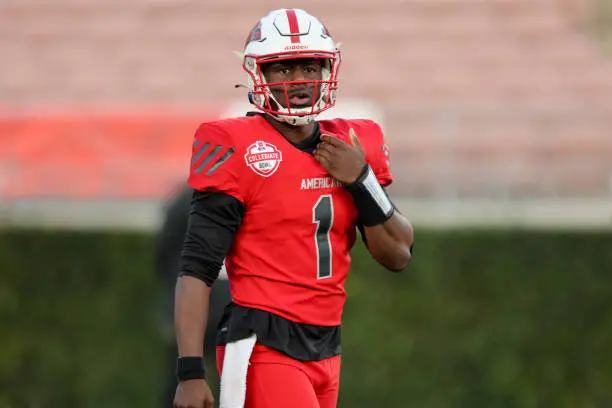 Word Up -Lindsey Scott Jr., University of the Incarnate Word
Reading Time:
3
minutes
First Round Mock's William Yanish studied the game film of quarterback (QB) Lindsey Scott Jr, who's one of the lesser known talents in the 2023 NFL Draft, and believes he has the skill set to compete for a roster spot at the next level.
Every year there seems to be a player that comes out of nowhere.
This usually happens from a small school that no one has ever heard of.
These are the players that drive underdog stories. They are the ones that are at the root of kid's dreams to compete at the highest level of football in the world.
There are many reasons that players are in situations like this. Perhaps they weren't ever noticed before, or maybe they hadn't played much and just didn't have the resume to play at a bigger school.
The most sought after and addictive thing on this planet is attention.
Whoever gets it can feel like a million dollars. People will seek that person out. However, if someone doesn't get it, they can end up with a chip on their shoulder.
Either way it can make or break the person.
Tell me about about this talented prospect
Lindsey Scott Jr. is a 5-foot-11, 212 pound QB from the University of the Incarnate Word (UIW).
After starting his college career at Louisiana State University, he hit the transfer portal and transferred three more times before finally touching down at UIW.
Scott landed like a bomb going off.
He set Division 1 Football Subdivision (FCS) records for passing touchdowns (60) and total touchdowns (71). Took the Walter Payton Award, as the most outstanding player in the FCS. As well, he won First-Team FCS All American honors.
He was subsequently selected 2nd overall by the Pittsburgh Maulers of the United States Football League (USFL) in their 2023 draft.
How did Scott look on game film?
He is a very dynamic player and an excellent runner. While having plenty of speed and mobility, he always has his eyes downfield.
Point blank – – Scott looked dangerous extending plays.
This UIW QB avoided taking hits. He's built low to the ground, and he has multiple gears to blow the doors off defenders when he turns on the jets.
The big thing is having a quick release. That's the NFL game, where the average release time is 2.5 seconds. Scott has that going for him.
Granted, his footwork and mechanics do need some work. He needs to set and throw. However, touch and accuracy outweigh arm strength.
No question Scott has strong potential with good (not great) downfield ball placement. If needed, he can hang in there when he's in a shootout.
He also looked like he had a full command of the offense as well.
The thing that was super intriguing is – – I've never seen a player tire out defenses the way he did on long drives.
What I think
I'm always a sucker for prospects who are exciting to watch. This is why I grew up as a fan of the game. Whether it's watching a player get their head taken off, or seeing them take it to the house, that's what pays the bills in this league.
However, let's not kid ourselves, winning is still king.
Scott is one of those players. Sure, the small school thing gets in the way and limited film makes things hard to work with.
I believe Scott would have showed well at the NFL Scouting Combine, and bottom line, he will be in some team's training camp this summer.
My BIG Three Questions
1. Will he get drafted or will he have his choice of teams as an undrafted free agent?
2. Can he show out in camp and make a team's practice squad?
3. Can he develop into a serviceable player at his age (24) before he passes his chance?
How Scott stacks up and game film reviewed
Draft value: Fifth Round (that's the price of a backup QB and he's worth it)
Pro comparison: Tennessee Titan's QB Malik Willis
Game film reviewed:
William Yanish III is a life long football fan. He's from the little town of Crawford, Colorado. Along the way, he's lived in Dutch Harbor, Alaska and Brookings, Oregon. Quarterback Joe Montana was his idol growing up. A little bit of CTE from life's adventures killed his dreams as a football player. Now, he is an aspiring writer and Draft Analyst at FirstRoundMock.com. He's a fanatic with a dream, which is coming true.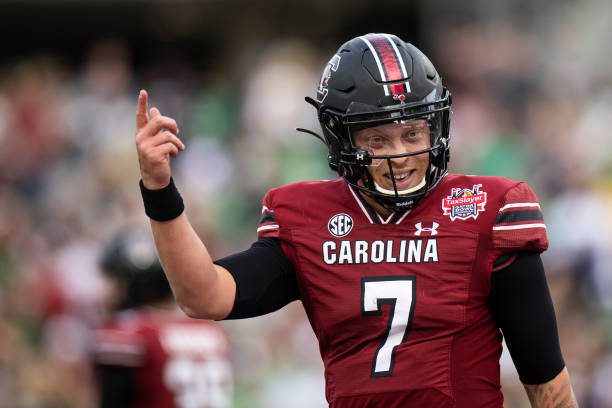 Reading Time: 3 minutes Find out what game film reveals about South Carolina quarterback Spencer Rattler.