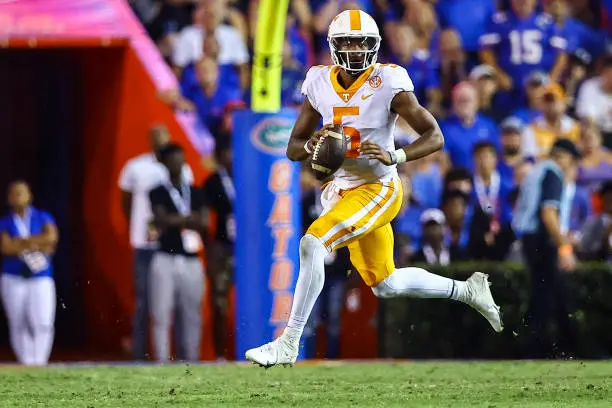 Hendon Hooker Not Anthony Richardson Says Former Scout
Reading Time:
3
minutes
When it comes to quarterbacks, the game film says Tennessee's Hendon Hooker is better than Florida's Anthony Richardson.
Whoever in America disagrees needs to watch the game film.
I have watched quarterbacks play for 40 years, and there is no question that Hooker is a better fit than Richardson in the NFL.
It's not even close.
Hooker is dependable, while Richardson is erratic.
How Richardson is even being considered as a first-round prospect blows my mind being someone who has worked in this league. All I hear people (and NFL coaches) saying about Richardson is how "raw" he is.
Raw means "project," where I come from, and project means late rounds.
How sure am I that Hooker will have a more successful pro career than Richardson?
I will bet every team owner the position I want most, which is to become an NFL General Manager.
How can I be this sure?
It's spray painted all over the game film of both prospects.
If you have seen Hooker play in one game, you've seen him play in all of them.
This Tennessee quarterback is a beacon of efficiency.
Richardson on the other hand is like putting five dice in a Yahtzee cup and guessing how they will roll out.
Hooker looks comfortable, and Richardson looks uncomfortable. Hooker is a quarterback first, and a runner second, and Richardson is the opposite.
This is some of the easiest math I have ever done in my life, and this is coming from someone who was the only voice in America stating quarterbacks Trey Lance (49ers), and Zach Wilson (Jets) would be busts prior to the 2021 NFL Draft.
What about the here and now?
I understand the awe surrounding Richardson's recent performance at the NFL Scouting Combine, and I understand Hooker is coming off a torn ACL.
It doesn't sound like a fair fight, but it will be.
Hooker had strong interviews at the Scouting Combine according to reports, and he will be ready to go by training camp. In fact, Hooker has lost his crutches and he's expected to be running by late March.
Teddy Bridgewater and Trey Lance
Hooker reminds me of quarterback Teddy Bridgewater who has thrown for 15,120 yards over eight seasons after being selected by Minnesota in the first-round of the 2014 NFL Draft (No.32).
Richardson reminds me of Lance all over again. A ton of hype, and nothing more.
Tempo
One of the most overlooked attributes is the rhythm and tempo a quarterback brings to the flow of the game. This is what gets or doesn't get the offense on the same page.
Hooker brings a very smooth feeling to the field and an exceptionally consistent tempo leading each and every play. This is important in terms of ball control and dictating a game to the defense.
Richardson leads with timing that feels abrupt, forced, and unpredictable.
#5 Hendon Hooker 6-foot-4, 214 pounds
Daniel Kelly's Final 2023 NFL Draft Grade: First-Round (I would select him)
First-Round Mock Big Board: TBD
Projected by 15.4% (up from 1.4% on September 4) of the NFL Draft Community to be a first-round pick as of March 13, 2022 (nflmockdraftdatabase.com)
2022 game film reviewed: LSU, Alabama, Kentucky, Georgia, and Florida (click to view games watched to form this evaluation)
Level of competition: High
2021 stats: 206/302 (68.2%) 2,945 yards (9.8 avg.), 31 TD, 3 INT., 36 sacks
2022 stats: 229/329 (69.6%) 3,135 yards (9.5 avg.), 27 TD, 2 INT., 23 sacks
2023 NFL Draft Scouting Report
Poised pocket pro-style passer with some mobility, an NFL arm and he does not take unneeded chances throwing. Fancy ball-handling skills and a convincing play-action. Feels the rush, but not preoccupied with it. Moves around to elude, but inconsistent accuracy rolling out. Doesn't always go through his progressions. Release time varies. Can lock in and hold the ball for an extra moment preparing to throw. Tight compact delivery with a controlled trajectory that still can sail high at times. Excels throwing short screens, bubble routes, and anything intermediate with a route breakpoint (especially slants). Places the ball where only receivers have a chance at it. Touch passer. Throws an easy ball to catch. Knack for finding the open receiver. Inconsistent deep. Tendency to overthrow, but can throw some beautiful deep passes as well. Eats sacks. Physical runner with some elusiveness and acceleration to pick up the tough yards.
Final words
Ideal No. 2 on a playoff-caliber team behind an established starter.
Daniel Kelly is a former NFL Scout with the New York Jets. He was hired on the regime which featured Bill Parcells, Bill Belichick, Scott Pioli, Mike Tannenbaum, and Dick Haley. He currently writes for Sports Illustrated New York Jets and he is the Editor-in-Chief for First Round Mock. For more information about him visit his website at whateverittakesbook.com. He can be followed on Twitter @firstroundmock.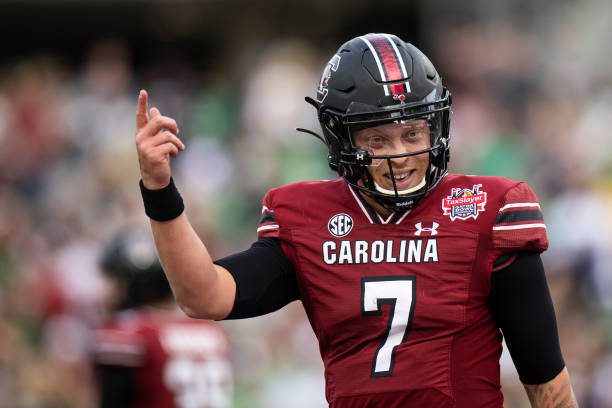 Reading Time: 3 minutes Find out what game film reveals about South Carolina quarterback Spencer Rattler.