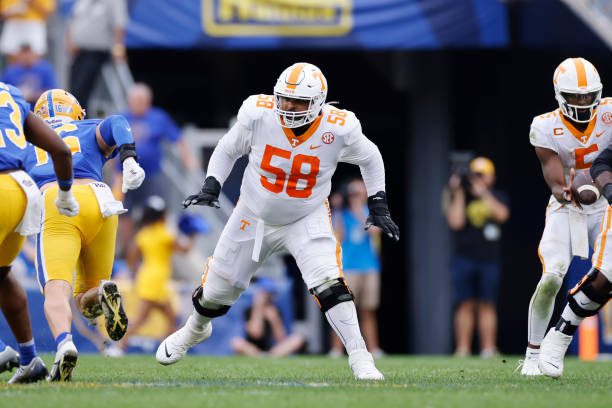 Darnell Wright Will Be a 10-Year NFL All-Pro
Reading Time:
3
minutes
It doesn't take a rocket scientist to put a big grade on Tennessee's right tackle (RT) Darnell Wright.
He put on a clinic in this three-game film block (embedded below).
I gave him a first-round grade the first time around, "Darnell Wright's Draft Stock Soars After Handling Will Anderson," and I have come back around on a second look to do it again.
I appreciated Anderson coming out and confirming my evaluation at the NFL Scouting Combine.
Help Wanted: Right Tackle
Any team that has that job posting, better get ready to hit the game-show buzzer in the first-round.
Man amongst boys
That's what it looks like watching Wright play offensive tackle. Game in and game out he holds down the right side of the line like he was born to do it.
They stunted, blitzed, and spun to no avail as Wright blocked all of their efforts.
He also got nasty about it.
Wright is a true alpha male who blocks like he means it. He drives defenders into the dirt whenever possible, not caring if it is in pass protection or run blocking.
Wright is a huge athletic force of nature who made it look too easy. He didn't even have problems against Georgia's Jalen Carter.
Bullrush Wright?
Good luck.
Just take a look at these clips that are a true representation of what I saw over six games in 2022. If anything he only got better as time went on – – so much better he climbed into the 10-20 range as opposed to falling to the bottom of the first.
Some of the best feet I've ever seen for a right tackle
Honest to football he moves like a left tackle playing right tackle. He's got the third-best feet in this draft class next to Cody Mauch and Anton Harrison.
They both play left tackle.
Wright has a lightning-fast first kick step and he moves up and down the pocket like he's being controlled by a video game joystick. I never even saw him cross over his footwork chasing any defenders. He literally was able to maintain a nice wide base on every rep.
It's incredible watching someone at 335 pounds move and transfer his weight like that.
Smart looking player on game film
Being huge and athletic is half the battle, but as the old saying goes in the NFL, "The game is won or lost from the neck-up."
So true. So true.
Circling back for a moment, I think it's really important to drive home just how smart Wright looked on game film when he was picking up those stunts and games in pass protection up front.
That's a big part of this.
He also had enough wherewithal to throw his hands up after making a run block so he won't get called for holding.
In Wright's own words
I had the privilege of sitting down and talking with Wright pre-Combine during his preparations for the event. That interview can be read here.
A big part of the evaluation process is the game film, but it always helps to be able to get to know the prospects as well.
That's also an important piece to the puzzle – – because in the end, this comes down to the team that is the best fit for him from a playing and personality standpoint.
#58 Darnell Wright 6-foot-6, 335 pounds
Daniel Kelly's Final 2023 NFL Draft Grade: First-Round (I would select him)
Projected by 16.9% (up from 9.9% on December 4) of the NFL Draft Community to be a first-round pick as of March 2, 2023 (nflmockdraftdatabase.com)
First Round Mock Big Board: TBD
Bust probability: Low
2022 game film reviewed: Kentucky, Georgia, and Florida (click to view games watched to form this evaluation)
Level of competition: High
Note: Allowed zero sacks in 2022 (pff.com)
2023 NFL Draft Scouting Report
Thick and heavy athletic blocker with long arms who excels both in pass and run blocking. Looks powerful, graceful and nimble moving around. Slides out maintaining lateral foot speed. Violent punch at the point of attack. Stays in control throughout the duration. Even showed he could handle a double spin, inside and then back to the outside. Iron anchor. An aggressive positional run blocker who finishes with leverage. If there is a glaring negative, it's an inconsistent sustain. Pulls and gets downfield with ease, but hit and miss. However, when he connects it's devastating.
Final words
Wright is RT1 heading into the 2023 NFL Draft.
Daniel Kelly is a former NFL Scout with the New York Jets. He was hired on the regime which featured Bill Parcells, Bill Belichick, Scott Pioli, Mike Tannenbaum, and Dick Haley. He currently writes for Sports Illustrated New York Jets and he is the Editor-in-Chief for First Round Mock. For more information about him visit his website at whateverittakesbook.com. He can be followed on Twitter @firstroundmock.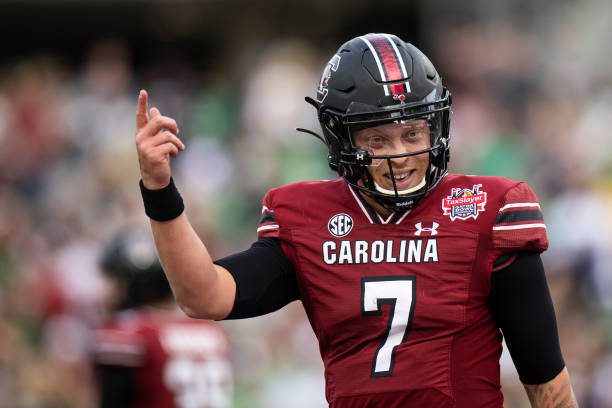 Reading Time: 3 minutes Find out what game film reveals about South Carolina quarterback Spencer Rattler.