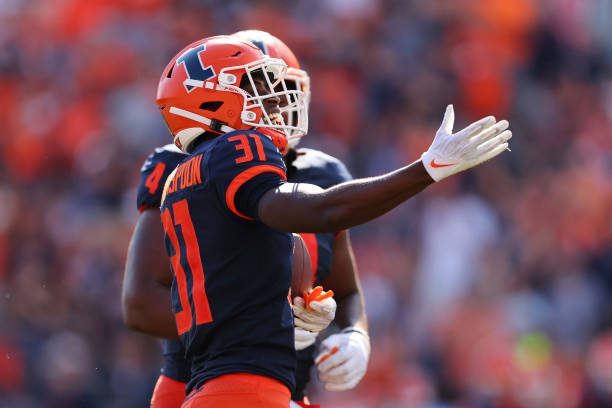 Two Concerns Surface About Illinois' Corner Devon Witherspoon
Reading Time:
3
minutes
The improvement Illinois' Devon Witherspoon showed on game film from 2021 to 2022 was profound.
I walked away giving this cornerback (CB) a fourth-round grade in an earlier article, "Illinois Corner Devon Witherspoon Isn't a First-Round Talent."
The physicality and aggression he showed was great, but he gave up too many catches and the lack of short-area burst was not there.
The short-area burst is still not there, but he has closed the other gap with better anticipation and timing. This past season on 425 coverage snaps, Witherspoon allowed 22 catches on 63 targets.
A corner after my own heart
Against Purdue, the television announcer said things like, "He's got the perfect corner mentality," "He likes to make the game personal," and, "He wants it to be chippy and he wants to talk."
Corners in the NFL have to have a short-term memory and a lot of confidence to man the game's most demanding position.
I don't just mean confidence – – he needs to have Sauce Gardner (CB Jets) type swag.
Witherspoon's got that.
I love the fireball emotional players who wear their hearts on their sleeves. They're damn good, they know it, and they're going to let everyone else know it too.
These are the guys who move the meter.
Witherspoon is just as aggressive with his mouth and his body language, as he is in coverage. His personality is as motivating as jumper cables on the field.
That's not all he has in common with Sauce
Gardner had a big reputation coming out of the University of Cincinnati, highlighted by the fact he never gave up a touchdown during his college career.
While Witherspoon's resume is not quite as impressive, it's not too bad either.
In 2022, this Illinois' corner played 616 of 784 snaps against outside receivers, he lined up in man-to-man on a defense that played man coverage 75% of the time, allowing 0 touchdowns in this defensive alignment.
If that doesn't scream aggression, I don't know what does.
What are the two concerns?
After evaluating a total of eight games over two seasons, there are a couple of things missing from Witherspoon's football resume, which will keep him from being great in the NFL.
-no short-area burst
-limited tightness
Listen, Witherspoon is fantastic on the vertical straight-line routes, and when he can drive back downhill hard on comeback routes.
He's also good when he covers up these two consistent limitations by compensating with physicality and/or good anticipation (like on slant routes).
It's the routes featuring quick unexpected changes of direction that are the issue.
I love everything about Witherspoon, but the reality is in 2021, UTSA, and Virginia found something on game film and they exploited the daylights out of it (14 catches on 19 targets), and Purdue had a field day against him in 2022 (including two pass interference calls).
What does this do to his draft stock?
Do those things concern me?
Sure they do.
Would I know how to attack Witherspoon if I was an opposing offensive coordinator?
Absolutely.
It's for these reasons, Witherspoon isn't a top-20 value, and he's not CB1 in this draft class, but he is a really tough No. 2. The perfect Philadelphia Eagles' prospect.
#31 Devon Witherspoon 6-foot-1, 180 pounds
Daniel Kelly's Final 2023 NFL Draft Grade: First-Round (I would select him)
First Round Mock Big Board: TBD
Bust probability: Moderate
Projected by 44.5% (up from 3.5% on October 25) of the NFL Draft Community to be a first-round pick as of February 19, 2023 (nflmockdraftdatabase.com)
2022 game film reviewed: Minnesota, Wyoming, Michigan, Purdue, and Wisconsin (click to view games watched to form this evaluation)
2021 stats: 52 tackles (42 solo, 10 assists), 9 passes defended, 0 INT., 1 sack
2022 stats: 42 tackles (33 solo, 9 assists), 14 passes defended, 3 INT.
NFL Comparable: Roger McCreary 2022 No. 35 TEN (more aggressive version)
2023 NFL Draft Scouting Report
Aggressive and volatile corner with good straight-line speed who lacks short-area burst and has some rigidity in his movements. Plays off and press-man and can play zone. Can drive downhill and hammer. Gets in receivers' faces. Challenging demeanor. Good jam, flip hips, turn while staying in phase vertically. Has real get up and go. Inconsistent timing defending passes. Sometimes blasts receivers causing incompletions. Susceptible to pass interference calls. Makes occasional run stops or at least is in the area. Tightness can show up against the run.
Final Words
Witherspoon brings a real presence to the field.
Daniel Kelly is a former NFL Scout with the New York Jets. He was hired on the regime which featured Bill Parcells, Bill Belichick, Scott Pioli, Mike Tannenbaum, and Dick Haley. He currently writes for Sports Illustrated New York Jets and he is the Editor-in-Chief for First Round Mock. For more information about him visit his website at whateverittakesbook.com. He can be followed on Twitter @firstroundmock.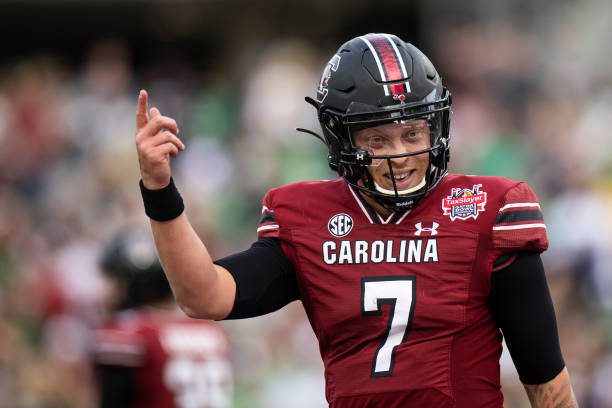 Reading Time: 3 minutes Find out what game film reveals about South Carolina quarterback Spencer Rattler.