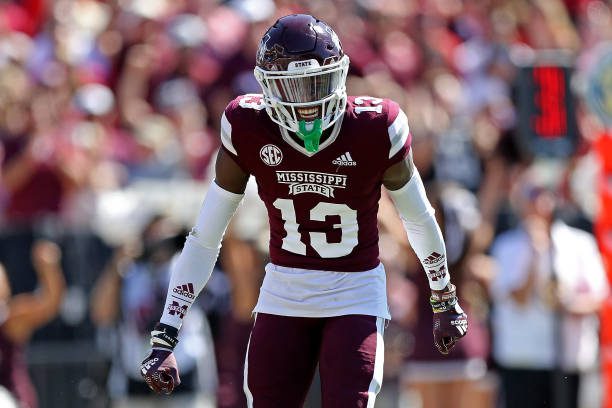 Emmanuel Forbes Reminds Former NFL Scout of Sauce Gardner
Reading Time:
3
minutes
It's time we put some respect on Mississippi State's Emmanuel Forbes' name.
I've loved this cornerback now for two consecutive seasons on game film. I loved him in my earlier article, "It's All Or Nothing With First-Round Corner Emmanuel Forbes," and I loved him again in 2022.
Alabama and probable top-5 quarterback, Bryce Young, put respect on his name by not targeting him one time. Young looked his way, but thought better of it.
Good call.
Forbes is a ball hawk with the three-year college football resume to match, posting 14 interceptions and 22 passes defended.
Forbes loves to bait quarterbacks.
If you don't believe me, just ask Kentucky's quarterback Will Levis who learned the hard way on a pick-6.
About that comparison…
Am I really comparing some of Forbes' characteristics to the 2022 Defensive Rookie of the Year?
Sure, why not, after all, months before this past season, I said Gardner would be the best cornerback in the NFL. Not only did he win those rookie honors, but Gardner additionally graded out as the highest corner in 17-years by Pro Football Focus.
Forbes brings a presence to the field similar to what I saw out of Gardner at the University of Cincinnati.
He has that lanky frame, thin legs and long arms that make for some very small throwing windows. There's additionally that same body language saying, "Throw it at me, I dare you." He too likes to keep an eye on the backfield and see what the quarterback is up to, much like "D'Roy Gardner" (Sauce's Twitter screen name).
I compared Sauce to Hall-of-Fame corner Champ Bailey pre-draft. Granted, Sauce's technique is more polished than Forbes, but Forbes has that same kind of aggressiveness and the playmaking appetite as Sauce.
What?
Let's see Forbes' credentials
Besides those stats I flashed up above, how about the physical characteristics?
Top-20 corners need to show short-area burst.
✓ Forbes
They need to be able to change direction quickly, and show fluid hips.
✓ Forbes
These types need to be oozing with confidence that you can smell like strong cologne on game film.
✓ Forbes
Ball skills are essential.
✓ Forbes
They need to bring a real presence to the field.
✓ Forbes
Do the other numbers match up?
In the game film embedded below, like I mentioned, Alabama left Forbes alone. Texas A&M targeted him four times, which resulted in two interceptions, one pass break-up and one catch. Kentucky tested him four times, making three catches, but there was that pick-six. LSU tried four times, and Forbes allowed one catch in zone coverage.
The phrase lock-down 🔒 was going through my mind. Teams avoided targeting him often as he held down one side of the field.
All told at Mississippi State, Forbes finished with a 44.7 quarterback rating when targeted.
In 2022, he allowed 284 yards through the air (31 receptions on 58 targets).
Things that sound too good to be true…
To round this out, there is an "all or nothing" element to Forbes that we saw in former Redskins' cornerbacks Fred Smoot and DeAngelo Hall.
He can over-aggress, get too handsy, and he got turned around like a top on a deeper route against Kentucky. This is why I'm not ready to anoint Forbes as a top-5 pick.
He's also too passive in support at times.
#13 Emmanuel Forbes 6-foot-0, 180 pounds
Daniel Kelly's Final 2023 NFL Draft Grade: First-Round (I would select him)
First Round Mock Big Board: TBD
Bust probability: Low
Projected by 18.6% (up from 10.0% November 12) of the NFL Draft Community to be a first-round pick as of February 20, 2023 (nflmockdraftdatabase.com)
2022 game film reviewed: Alabama, Texas A&M, Kentucky, and LSU (click to view games watched to form this evaluation)
2021 stats: 59 tackles (45 solo, 14 assists), 5 passes defended, 3 INT., 1 sack, 1 forced fumble
2022 stats: 46 tackles (26 solo, 20 assists), 11 passes defended, 6 INT, 3 TD
2023 NFL Draft Scouting Report
Playmaking cover corner with good straight-line speed and flexibility. Opportunistic. Plays press man, but often transitioned to off-man and zone pre-snap. Flips hips, has spring in his step, and stays in phase carrying vertically. Moves with receivers like he's dancing with them step for step. Excellent at maintaining route leverage and presses receivers hard against the sideline. Showed short-area burst. Drives downhill hard. Thumper on screens. Demonstrative. Reluctant against the run, but capable.
Final words
Forbes will be in the running for Defensive Rookie of the Year honors.
Daniel Kelly is a former NFL Scout with the New York Jets. He was hired on the regime which featured Bill Parcells, Bill Belichick, Scott Pioli, Mike Tannenbaum, and Dick Haley. He currently writes for Sports Illustrated New York Jets and he is the Editor-in-Chief for First Round Mock. For more information about him visit his website at whateverittakesbook.com. He can be followed on Twitter @firstroundmock.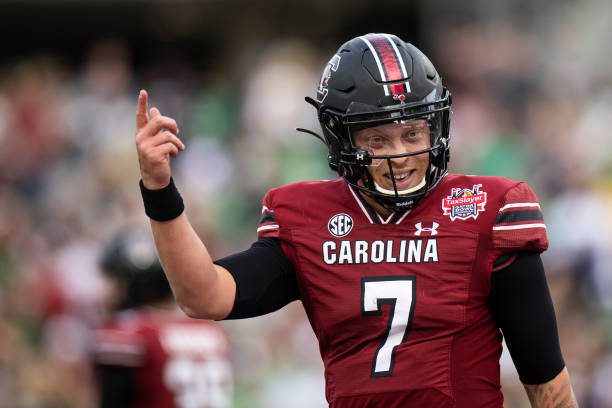 Reading Time: 3 minutes Find out what game film reveals about South Carolina quarterback Spencer Rattler.