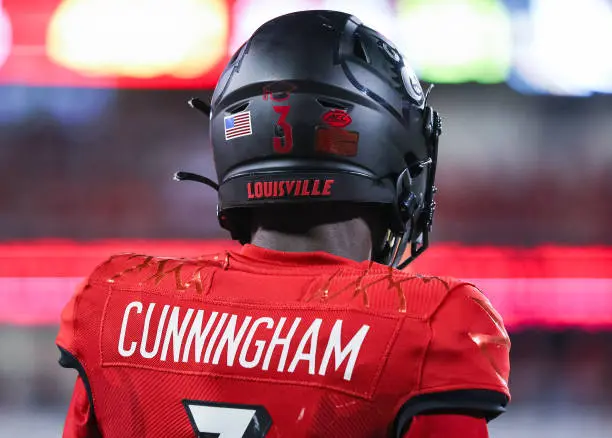 The First Round QB Nobody is Talking About, Malik Cunningham
Reading Time:
3
minutes
Louisville's Malik Cunningham is who everyone thinks Florida's Anthony Richardson is.
While all the hype is swirling around The Gators' quarterback (QB) Richardson, Cunningham shows he is more dynamic than Richardson and has a better skill set in every way, based on game film study.
The biggest difference?
Cunningham is a QB first and an athlete second, and Richardson is an athlete trying to be a QB.
Outside of that, Cunningham shows he processes what he's seeing much faster, he has superior downfield ball placement and he is a more dynamic runner.
An apples-to-apples comparison in 2022 numbers:
Passing: Cunningham was 136/218 (62.4%) and Richardson was 176/327 (53.8%).
Rushing: Cunningham had 114 rushing attempts for 565 yards (5.0 avg.) and 12 TD. Richardson had 103 rushing attempts for 654 yards (6.3 avg.) and 9 TD.
I have a fifth-round grade on Richardson based on game film study for three main reasons – he's too slow processing what he's seeing downfield, he's doesn't have the juice to beat NFL defenses with his feet, and his erratic downfield ball placement is going to be his undoing.
We need to stop the Richardson first-round nonsense and turn on Cunningham's game film.
What shows on game film
I've now looked at Cunningham in nine games spanning a two-year period of time. You can click here to see my article and evaluation on him based on his 2021 game film, and here to see my fall 2022 scouting report.
In the latest three-game study (game film embedded below) these are the characteristics that jumped off the screen:
-Athletic dual-threat
-Ran a controlled and very methodical offensive attack
-Air of maturity about him (I don't look at him being 24-years when he is drafted as a negative)
-Processed what he was seeing quickly
-Relatively quick release time (vitally important in today's NFL)
-Looked like he knew where he was going with the ball
-Tough as nails (came back in the game after taking wicked shots – wore a special padded glove against Clemson)
-Above average ball placement (even when he missed it wasn't by much)
-Good ball protection (this one is big too – threw one interception in these three games and no other risky passes)
What's the bottom line
Cunningham offers a lot for an NFL team to work with. It won't surprise me to see the Ravens let QB Lamar Jackson walk, start Tyler Huntley (who showed he is capable in the playoff game against Cincinnati) and select Cunningham.
In a lot of ways Cunningham reminds me of Jackson. He also looks like a more accurate passer than the NFL free agent, who's about to break the bank.
In fact, as I mentioned in a previous article, Cunningham finished his career at Louisville with a higher completion percentage, yardage-per-completion percentage, and college QB rating than Jackson.
Critics will quickly point out how much he got banged up at Louisville, but I offer this response, over his five college seasons, this leader played in 56/62 games.
Cunningham is First Round Mock's QB3 headed into the 2023 NFL Draft behind Ohio State's C.J. Stroud and Alabama's Bryce Young.
#3 Malik Cunningham 6-foot-1, 190 pounds
Daniel Kelly's Final 2023 NFL Draft Grade: First-Round (I would select him)
First Round Mock Big Board: TBD
Projected by: 0.4% (down from 0.8%) of the NFL Draft Community as a first-round pick as of January 30, 2023 (nflmockdraftdatabase.com)
2022 game film reviewed: Pitt, James Madison and Clemson (click to view games watched to form this evaluation)
2021 stats: 209/337 (62.0%) 2,941 yards (8.7 avg.), 19 TD, 6 INT.
2022 stats: 136/218 (62.4%) 1,568 yards (7.2 avg.), 8 TD, 5 INT.
2023 NFL Draft Scouting Report
True dual threat with command of the offense and a good arm and downfield ball placement. Operated out of shotgun. Good ball handling. Can evade. Throws it away under extreme pressure or take sack. Tends to work short. Excels throwing break point routes at the intermediate level. Cuts it loose on slants. Most accurate when setting his feet. The faster he releases, the better. Tends to lock in without going through progressions (has shown previously he can do it inconsistently). Can put it where it needs to be deep. Will thrive based on quick processing, ball placement, ball protection and being an elite runner. He fits the direction the NFL is headed.
Final words
Cunningham is the perfect QB for a playoff team needing a strong No. 2, plus he can be used in different packages.
Daniel Kelly is a former NFL Scout with the New York Jets. He was hired on the regime which featured Bill Parcells, Bill Belichick, Scott Pioli, Mike Tannenbaum, and Dick Haley. He currently writes for Sports Illustrated New York Jets and he is the Editor-in-Chief for First Round Mock.For more information about him visit his website at whateverittakesbook.com. He can be followed on Twitter @firstroundmock.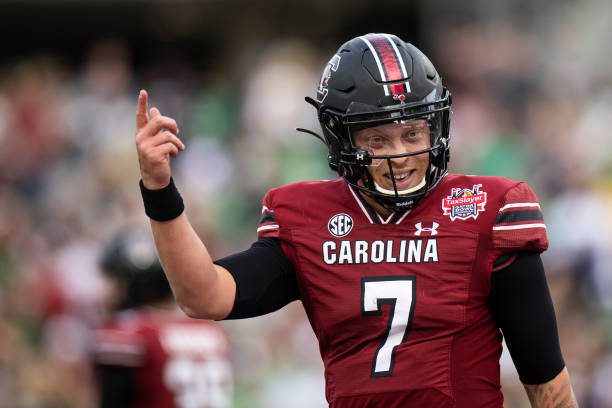 Reading Time: 3 minutes Find out what game film reveals about South Carolina quarterback Spencer Rattler.