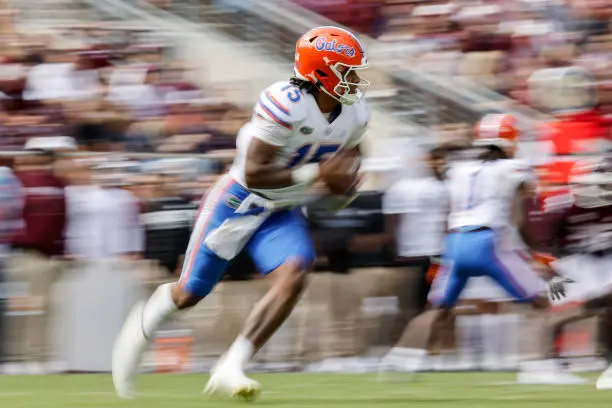 Anthony Richardson: Nothing More than a Glorified Option Quarterback
Reading Time:
3
minutes
I don't mean to shoot down the hype surrounding Anthony Richardson, but the game film doesn't support him going in the first-round of the upcoming 2023 NFL Draft.
Richardson has been a tough competitor for the Gators, but in the end that will not be enough to be a franchise quarterback in the NFL.
Why not?
Richardson is not elite on his feet
He's not Lamar Jackson and he's not Justin Fields – – who are two dangerous dual-threat quarterbacks in the NFL.
Richardson is tough as nails as a runner, but he doesn't have that juice.
His whole game is built around play-action, but it's going to be next to impossible to get NFL defenses to honor him as a running threat without the elite playing speed or elusiveness.
Richardson has average football playing speed that got him cut off at the edge against college competition more times than I could count.
Richardson is erratic
Watching him throw a football was like watching someone at a shooting range firing an AR-15 while wearing a blindfold.
I am not trying to be disrespectful due to him trying to distance himself from that nickname, but the statistics alarmingly back my statement.
Check this out – – Richardson's completion percentage in his first full season as the starter was 53.8%.
Against Georgia, which is about as close to an NFL audition as college football offers, Richardson hit 48.6%.
During the past 10 years, here are the lowest listed annual league completion percentages listed among starting quarterbacks in the NFL (espn.com): Zach Wilson (2022: 54.5%), Zach Wilson (2021: 55.6%), Drew Lock (2020: 57.3%), Josh Allen (2019: 58.8%), Josh Allen (2018: 52.8%), DeShone Kizer (2017: 53.6%), Cam Newton (2016: 52.9%), Andrew Luck (2015: 55.3%), Drew Stanton (2014: 55.0%), Brandon Weeden (2013: 52.8%) and Chad Henne (2012: 53.9%).
What will Richardson's 53.8% college completion percentage translate to going up against more complex defenses in the NFL?
What will his Florida career 25-15 touchdown-to-interception ratio translate to in the NFL?
My NFL background says none of this projects well.
What are Gators' fans saying?
Normally, fanbases are loyal to players to a fault, but not the University of Florida.
When I released my September article and evaluation, "Former NFL Scout Says Anthony Richardson Looks Like A Bust," I got a lot of support from his own team's fanbase on Facebook.
There was a good handful of comments that said he's not ready for the NFL.
What is all the hype about?
He's got fancy ball handling skills and elite level pocket escapability – – which his whole game is built around.
He doesn't take a lot of sacks and he excels at exploiting coverage breakdowns resulting from him holding the ball too long.
He also throws a seldom nice deep ball, and he creates a lot of drama.
Bottom line: Richardson makes one hell of a season-ticket highlight tape, but it's important to examine his full body of work.
#15 Anthony Richardson 6-foot-4, 232 pounds
Daniel Kelly's Final 2023 NFL Draft Grade: Fifth-Round (I would select him in that round)
First Round Mock Big Board: TBD
Bust Probability: High
Injury Concern: High
Projected by 55.5% (up from 48.7% on September 14) of the NFL Draft Community to be a first-round pick as of December 29, 2022
2022 game film reviewed: Tennessee, Georgia and FSU (click to view games watched to form this evaluation)
Level of competition: High
2021 stats: 38/64 (59.4%) 529 yards (8.3 avg.), 6 TD, 5 INT., 3 sacks
2022 stats: 176/327 (53.8%), 2,549 yards (7.8 avg.), 17 TD, 9 INT., 13 sacks
NFL comparable: Taysom Hill
2023 NFL Draft Scouting Report:
Athlete first, quarterback second, tough and competitive who moves around exceptionally well in the pocket, but erratic throwing at all three routes levels (short, medium and deep). Operates out of shotgun. Visibly takes too much time processing coverages at times, which causes hesitancy throwing and him scrambling. Excels rolling out and throwing against longer developing coverage breakdowns. Best throwing routes from the pocket with distinct breakpoints. Downfield ball placement issues. Tendencies for the ball to sail high and to overthrow. Below average accuracy deep. Runs hard and takes what defenses give him. Projects best as being a gadget player.
Final Words
He will not be able to manipulate defenses as easily at the next level. His lack of playing speed and his erratic ball placement will cause him to run out of ammunition in the NFL.
Richardson will be a bust if he's taken in the first-round.
Daniel Kelly is a former NFL Scout with the New York Jets. He was hired on the regime which featured Bill Parcells, Bill Belichick, Scott Pioli, Mike Tannenbaum, and Dick Haley. He currently writes for Sports Illustrated New York Jets and he is the Editor-in-Chief for First Round Mock. For more information about him visit his website at whateverittakesbook.com. He can be followed on Twitter @firstroundmock.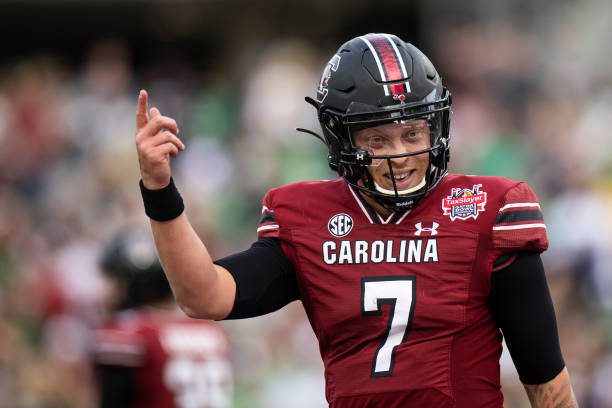 Reading Time: 3 minutes Find out what game film reveals about South Carolina quarterback Spencer Rattler.