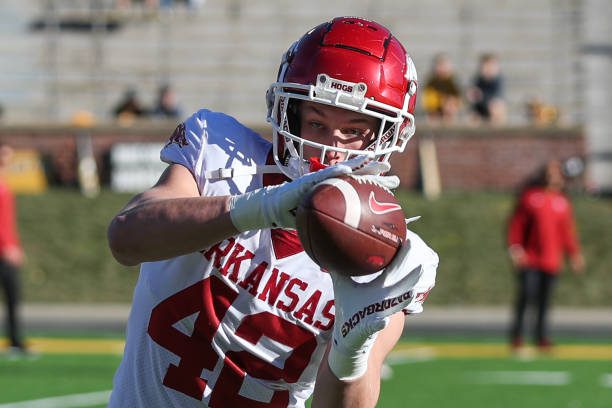 Will Drew Sanders Go in the First Round of the 2023 NFL Draft?
Reading Time:
3
minutes
Arkansas' Drew Sanders made a peculiar decision transferring from Alabama to Arkansas this past season.
In fact, that is the number one question I would ask him if I was an NFL General Manager is why did you switch schools?
The move paid off in terms of the statistics Sanders posted in 2022, but will it pay off in the 2023 NFL Draft?
Elite characteristics
The school the prospect plays at doesn't matter. What matters is if they show elite game changing characteristics on game film.
What elite characteristics does Sanders show?
-Elite straight-line speed
-Short-area burst
-Range
I liked his performance in an earlier article, "Drew Sanders is a Good Looking Football Player," based on study of three additional games in 2022, and I like him again on these three games (embedded below).
Versatility
This is the number one thing I like about what Sanders has shown.
He's able to line up inside and outside. He can play inside linebacker on first and second down, and then slide out and come off the edge on 3rd down passing situations.
I can't say I've seen this before – – a linebacker who can hold his own inside against the run, who doubles as an elite pass rusher off the edge.
What does Sanders look like on game film?
He's a tall classic run-and-hit linebacker with limited flexibility.
Despite not running the 40-yard-dash at the NFL Scouting Combine, Sanders can really run on game film.
The big negative is his inconsistent motor. There are some "wow moments" (Texas A&M) when he really turns it on. Then there are all the other times that filled up the negative columns in my notes, both against the pass and the run.
Sanders additionally shows the uncanny ability to make plays on a regular basis, which leads us into the number one reason for the grade I'm giving him.
Playmaker
This the top prerequisite required to be on First Round Mock's first-round value board, and this is what Sanders is.
It shows up on a regular basis on game film, and it is confirmed by his stats.
Sanders exploded onto the scene this past season for the Razorbacks, not only with the amount of tackles he made, but with other key stats which are indicators as well.
Five passes defended, three forced fumbles and an interception point to the fact he's a playmaker.
The 9.5 sacks (Second in the SEC, 15th ranked nationally) and 39 pressures (SI.com) also speak to the fact he is a playmaker who can blow up the pocket.
Buffalo Bills
With Bills' middle linebacker Tremaine Edmunds becoming an unrestricted free agent, this would be a great landing spot for Sanders if that spot opens up.
Will the Bills let Edmunds walk?
That's the multi-million dollar question.
Edmunds' body has taken a beating over five seasons (and 565 tackles during that time) for the Bills, and he is coming off his lowest number of tackles this past season in his career. Statistically, there is a slight decline, and he is expected to command $11 million a season (spotrac.com) and the Bills are currently close to $19 million over the cap for 2023.
Sounds like Edmunds will either take a huge pay cut or Sanders could be the pick.
#42 Drew Sanders 6-foot-5, 232 pounds
Daniel Kelly's Final 2023 NFL Draft Grade: First-Round (I would select him)
First Round Mock Big Board: TBD
Bust Probability: Low
Projected by: 23.8% of the NFL Draft Community to be a first-round pick as of March 8, 2023 (nflmockdraftdatabase.com)
2022 game film reviewed: Texas A&M, BYU, and Liberty (click to view games watched to form this evaluation)
2022 stats: 103 tackles (40 solo, 63 assists), 5 passes defended, 3 forced fumbles, 1 interception, 9.5 sacks
2023 NFL Draft Scouting Report
Lean and muscular straight-line linebacker with long arms, inconsistent technique and intensity. All over the field. Tends to make tackles or assists on running plays once the runner reaches his level or further downfield. Inconsistent hand usage at the point of attack and can take bad angles and over-pursue the ball carrier. Can't make quick open-field adjustments. Solid wrapping tackler. Has the pure speed to get to the quarterback, but needs it lined up. Flashed explosive power bull rushing and fast swim move. In pass coverage he can run with running backs and tight-ends anywhere on the field.
Final words
Sanders has what it takes to be a difference maker in the NFL.
Daniel Kelly is a former NFL Scout with the New York Jets. He was hired on the regime which featured Bill Parcells, Bill Belichick, Scott Pioli, Mike Tannenbaum, and Dick Haley. He currently writes for Sports Illustrated New York Jets and he is the Editor-in-Chief for First Round Mock. For more information about him visit his website at whateverittakesbook.com. He can be followed on Twitter @firstroundmock.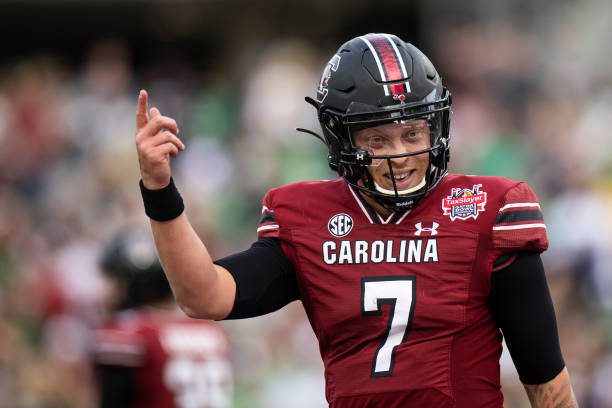 Reading Time: 3 minutes Find out what game film reveals about South Carolina quarterback Spencer Rattler.