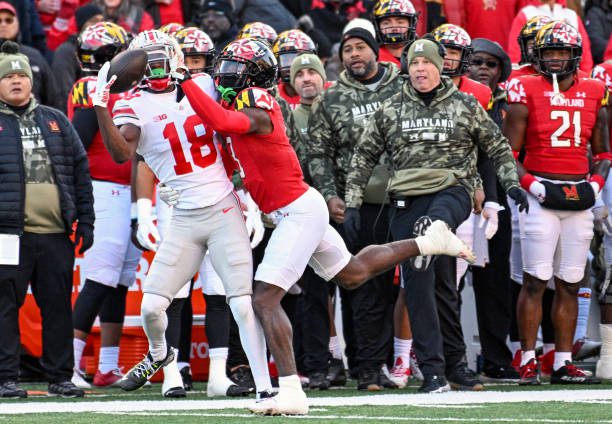 Maryland Cornerback Deonte Banks Sticks to Receivers Like Glue
Reading Time:
3
minutes
Maryland's Deonte Banks is a new face in the first-round. He's someone who missed most of the 2021 season, but there's just something about him.
While this cornerback is a borderline first or second round prospect, I'm going out on a limb and mocking him into the first-round.
Why?
Call it a feeling.
Aggressive
I love aggression.
Aggression moves the meter. Aggression wins.
I want 11 guys on the field that bring it, and Banks does just that.
It takes some real confidence and attitude to hold down one of the game's most demanding positions matched up one-on-one against elite receivers in the NFL.
There's nowhere to run and nowhere to hide when that tightly wound spiral is floating through the air and all eyes are on the receiver and the corner.
Banks game film screamed he lives for those moments.
Hard to shake
Banks was often like the receivers shadow, and even when he faced First Round Mock's 2023 NFL Draft QB1 C.J. Stroud, he was up to the task.
Although, Stroud got him a couple times with his pinpoint laser accuracy, Banks got him a couple times too and broke up passes. There was no backdown in this Maryland corner.
That's a good sign.
In this four game block of film study, when it came to receivers trying to shake Banks vertically, as they say in New York, fuhgeddaboudit.
It's like Banks was attached to receivers like velcro.
Win some and lose some
It's not all unicorns and rainbows with Banks, which is why he was teetering on the first-round fence the entire time I was studying him on game film.
Banks can forget to look back for a deep ball when it's coming down from the sky, and he was playing the receiver instead of the ball, like on a rep against Ohio State. There were also other times when he gave up too much cushion and separation at route break points and could only secure the tackle after the damage had been done.
While he did show off good straight-line speed to carry vertical coverages, he additionally showed he lacked recovery speed if he fell into trail position.
Overriding factor
Every time Banks got beat, the meter in my head pushed him into the second round, but then he would do something to endear himself to me again, and push himself back into the first round.
The thing that kept him there was he showed the one characteristic that's required to be a legit first-round corner – – Banks has some playmaker to his game.
He showed this past season he has a nose for the football, and he showed he's developing. During the first three seasons at Maryland, he put up only three passes defended and one interception.
Banks then exploded in 2022 with eight passes defended and one interception. I believe he is just starting to come into his own, and what he lacks in technique, explosive burst, and recovery speed he makes up for with tremendous competitiveness, a nose for the ball, and physicality.
I believe in the young man. Send the card in.
#3 Deonte Banks 6-foot-2, 205 pounds
Daniel Kelly's Final 2023 NFL Draft Grade: First-Round (I would select him)
First Round Mock Big Board: TBD
Bust Probability: Low
Projected by 9.9% of the NFL Draft Community to be a first-round pick as of February 28, 2023 (nflmockdraftdatabase.com)
2021 game film reviewed: West Virginia (click to view games viewed to form this evaluation)
2022 game film reviewed: Michigan, Purdue, Ohio State
2022 stats: 38 tackles (25 solo, 13 assists), 8 passes defended, 1 INT, 0.5 sack
Injury note: Missed all but two games in 2021 with a shoulder injury (and surgery)
2023 NFL Draft Scouting Report
Tall lanky muscular highly competitive aggressive corner with long arms and good straight-line. Played in press and off man as well as zone. Showed good press hand technique. Good hip flexibility shown. Turned and effortlessly stayed in phase vertically. Has some real get up and go. Showed short area jump in speed. Inconsistent playing breakpoint routes. Most susceptible to rounded breakpoint comeback routes. Drives hard back downhill to defend quick breakpoint comebacks. In general, works his hardest to stay in the receivers' hip pocket. Fairly good feel for routes. Blitzing upside. So-so against the run. Bold presence.
Final words
He would make a heck of a No. 2 corner for a playoff team that has a star on the other side.
Daniel Kelly is a former NFL Scout with the New York Jets. He was hired on the regime which featured Bill Parcells, Bill Belichick, Scott Pioli, Mike Tannenbaum, and Dick Haley. He currently writes for Sports Illustrated New York Jets and he is the Editor-in-Chief for First Round Mock. For more information about him visit his website at whateverittakesbook.com. He can be followed on Twitter @firstroundmock.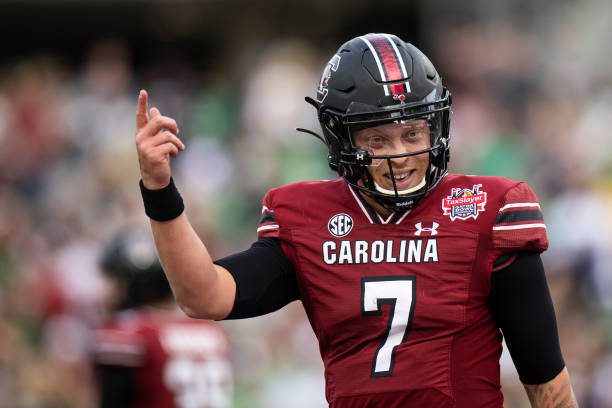 Reading Time: 3 minutes Find out what game film reveals about South Carolina quarterback Spencer Rattler.