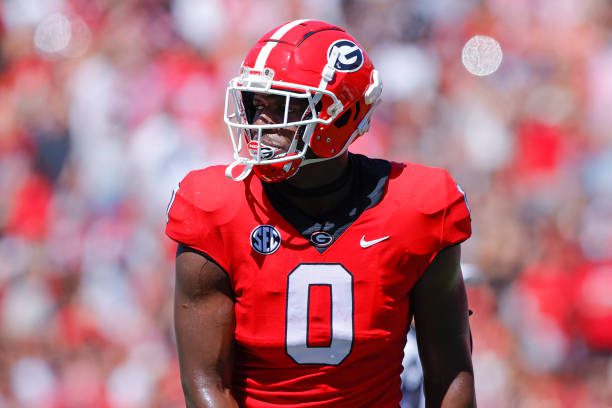 Look For a Playoff Team to Take Darnell Washington First-Round
Reading Time:
3
minutes
Georgia's towering Darnell Washington is the perfect first-round chess piece for one of the better teams to take in the upcoming 2023 NFL Draft.
He's an athletic cross between a tight-end and a third offensive tackle on the field and makes one of the more intriguing hybrid prospects we've ever seen.
While his blocking is the talk of the town, he looks like the NFL's version of former New York Knicks' center Patrick Ewing, running routes athletically lumbering into the intermediate route level.
Washington is going first-round based on what I've seen this season and my last article, "Georgia Tight End Darnell Washington Looks Dominant." With his alpha-male dominant vibe, size and being a complete tight-end, this one is nothing but net from downtown.
Complete tight-end
Washington can run and pass block, plus he's a threat to catch the ball in the short-to-intermediate route levels. Not only can he pick up additional yardage after the catch, but he can even hurdle a defender.
That's how athletic he is.
Even more, he can look like he's blocking, but then sneak out and get wide open on a route.
Big time blocker
This is not one of these tight-ends that is chip blocking and hoping it will work.
Washington can destroy defenders, and he can additionally get downfield in ways offensive linemen can't to make an additional block, when another receiver catches it or on a running play.
This is a big…big…big…plus.
Washington is on of the best blocking tight-ends I've ever seen in 40 years. He uses his dominant size and strength to block like he means it.
Pass catching
Imagine a much larger version of Seahawks' wide receiver D.K. Metcalf running routes and this will give you an idea of what defenders will be facing in the NFL.
He's a gigantic mass of chiseled muscle, building speed and elite athleticism, running into the short to intermediate route levels against smaller and less agile defenders. I say smaller, because he's larger than just about everybody on every team's defense.
Yikes!
Mismatch city here we come. The name of the game on offense is finding, creating, and exploiting mismatches and Washington has mismatch heaven written all over his draft card.
Don't let the lack of receiving production fool you either. Washington had all-world tight-end Brock Bowers ahead of him on Georgia's depth chart, who led the Bulldogs' in receiving.
Washington held his own with a whooping 78% catch rate over his three seasons at Georgia (45 catches on 58 targets). He's got strong baseball glove size hands that lock onto a football like a vice-grip.
Which team hat will this dominant prospect be wearing on draft night?
When I close my eyes, I see him putting on a Bengals' hat toward the end of the first-round. Tight-end is one of the top needs listed for the Bengals on NFL.com, and this would be one of those cool toys that would make Cincinnati quarterback Joe Burrow's face light up like Christmas morning.
The Eagles would be interesting, and there's an outside chance the Cowboys take him at No. 26.
#0 Darnell Washington 6-foot-7, 270 pounds
Daniel Kelly's Final 2023 NFL Draft Grade: First-Round (I would select him)
Projected by 25.4% (up from 9.2% on October 26) of the of the NFL Draft Community to be a first-round pick as of February 4, 2023 (nflmockdraftdatabase.com)
First Round Mock Big Board: TBD
2022 game film reviewed: Florida, Missouri, and Oregon (click to view games watched to form this evaluation)
2021 stats: 10 receptions (13 targets for a catch rate of 77% ) 154 yards (15.4 avg.), 1 TD, 32-long
2022 stats: 28 receptions (41 targets for a catch rate of 68%) 454 yards (16.2 avg.), 2 TD, 34-long
2023 NFL Draft Scouting Report
Huge dominant and athletic all-purpose tight-end with above average playing speed and hands. Lines up in tight or out wide. Methodical release. Achieves inconsistent separation in the short route level. Looks a little awkward and unsure at times short range. Good job working back to the quarterback when he's in trouble. Speed builds. Looks the part getting into the intermediate route level. Good focus and ability to pluck the ball out of the sky against single or tight double coverage. Excels on breaking point routes when he can use his big frame to box out. Tremendous run blocker with leverage. Seals and walls off well. Can get inconsistent sustaining quite long enough occasionally.
Final words
Washington moves the meter.
Daniel Kelly is a former NFL Scout with the New York Jets. He was hired on the regime which featured Bill Parcells, Bill Belichick, Scott Pioli, Mike Tannenbaum, and Dick Haley. He currently writes for Sports Illustrated New York Jets and he is the Editor-in-Chief for First Round Mock. For more information about him visit his website at whateverittakesbook.com. He can be followed on Twitter @firstroundmock.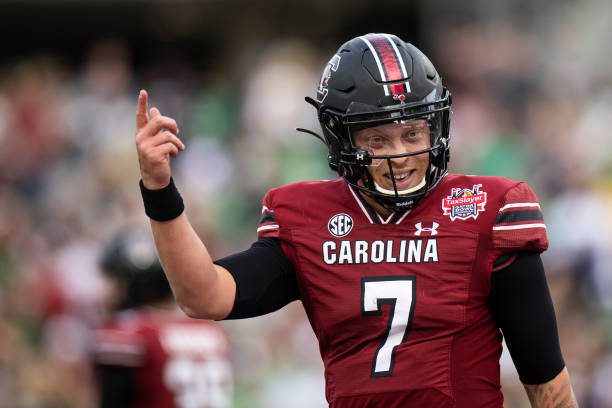 Reading Time: 3 minutes Find out what game film reveals about South Carolina quarterback Spencer Rattler.