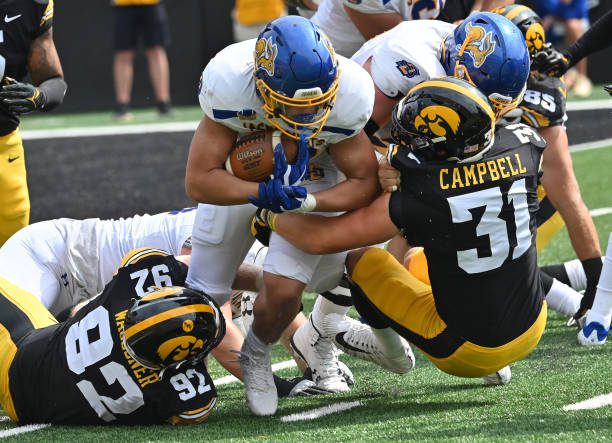 Iowa's Jack Campbell Slips Into the Second-Round
Reading Time:
3
minutes
Iowa's Jack Campbell is a tackling machine.
I loved this middle linebacker based on his 2021 game film, and liked him in 2022.
What changed?
His intensity changed.
The thing that impressed me most about him in an earlier article, "Jack Campbell Earns First Round Grade From Former NFL Scout" was he attacked the line of scrimmage that season.
I didn't see that same consistent level of attack this past season.
First-round value board
In order to make First Round Mock's First Round value board, a prospect has to show dynamic game-changing characteristics on game film, and Campbell just did not show that.
I counted two high impact plays in this three-game study (one tackle for a loss and one interception), and that's just not enough to make it.
No doubt, Campbell will be a productive NFL defender, but there's a difference between a productive player and a playmaker.
Playmakers are first-round prospects.
As much as I loved Campbell on his 2021 game film, I have to make the adjustment, because at First Round Mock, game film trumps everything. When a prospect shows decline in his play leading up to the draft, the grade must be adjusted.
Complete three-down linebacker
The most intriguing thing to me about Campbell is he's a three-down linebacker in today's pass-happy NFL.
Middle linebacker has evolved over the past forty years from being a run-stuffer to a hybrid who can play the run, but he's like having another defensive back on the field.
Campbell can do both, and it's for that reason he remains highly thought of, just in the right round, to match his value.
Pass coverage
Campbell is technically sound in this department.
He's all over the field.
Dropping into short-to-intermediate zones is something he can do with ease, and he can also hold his own in short-field man coverage with running backs and tight-ends outside.
He's better against the pass than the run, which fits well into today's NFL.
Against the run
Some consistent limitations that show up despite the big numbers in production.
-Questionable instincts
-Lack of playing strength
-Inconsistent ability to shed and get free from blockers
Campbell makes as many tackles and assists as he can get his hands on, but it's the plays he's not making that concern me.
A good number of times in these three games Campbell showed he could be fooled by misdirection and he found himself taking a step (or two) in the wrong direction.
Campbell also had a whale of a time getting off of strong power blocks by bigger offensive linemen, and even occasionally tight-ends and running backs.
In general, maybe 60% of the time he was able to shed to make an assist or tackle, and the rest of the time he ended up by the pile, or he was in the general area. The backside jogging at times on active plays didn't sit well with me either.
When will he hear his name called?
I'm thinking he is a solid second-round pick.
He will be a starter for years inside and he will be a key contributor on defense.
I still like him – – I just didn't feel the same excitement I felt on his 2021 game film.
#31 Jack Campbell 6-foot-5, 246 pounds
Daniel Kelly's Final 2023 NFL Draft Grade: Second-Round (I would select him)
First Round Mock Big Board: TBD
Bust probability: Low
Projected by 6.3% (up from 5.2% on October 29) of the NFL Draft Community to be a first-round pick as of February 17, 2023 (nflmockdraftdatabase.com)
2022 game film reviewed: Michigan, Iowa State and Ohio State (click to view games watched to form this evaluation)
2021 stats: 140 tackles (57 solo, 83 assists), 1 forced fumble, 5 passes defended, 1 sack (13 pressures nfldraftbuzz.com)
2022 stats: 125 tackles (59 solo, 66 assists), 1 forced fumble, 1 pass defended, 1 sack (13 pressures)
2023 NFL Draft Scouting Report
Well-rounded productive linebacker who excels in damage control tackles. Disciplined. Able to run covering in man and zones short-to-intermediate. Alert looking. Provided excellent support after the fact. Was sent on a number of blitzes, but couldn't overcome blocks. More of a pressure guy than a sack artist. Decent key and diagnose on runs, and made the plays he could make despite his stated limitations. Missed a few tackles, but often a solid wrapping tackler. Has the athletic ability to make open-field tackles.
Final words
Campbell is the best middle linebacker I've seen in this draft class.
Daniel Kelly is a former NFL Scout with the New York Jets. He was hired on the regime which featured Bill Parcells, Bill Belichick, Scott Pioli, Mike Tannenbaum, and Dick Haley. He currently writes for Sports Illustrated New York Jets and he is the Editor-in-Chief for First Round Mock. For more information about him visit his website at whateverittakesbook.com. He can be followed on Twitter @firstroundmock.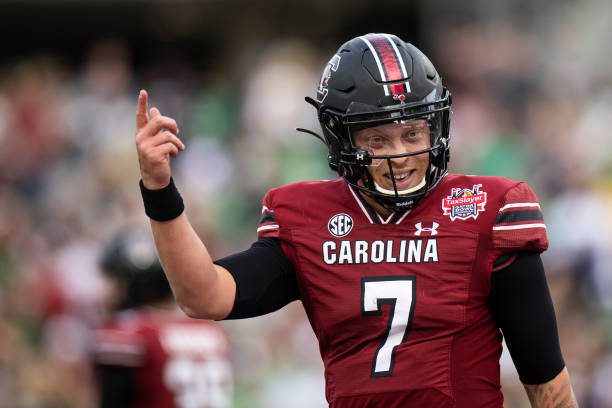 Reading Time: 3 minutes Find out what game film reveals about South Carolina quarterback Spencer Rattler.