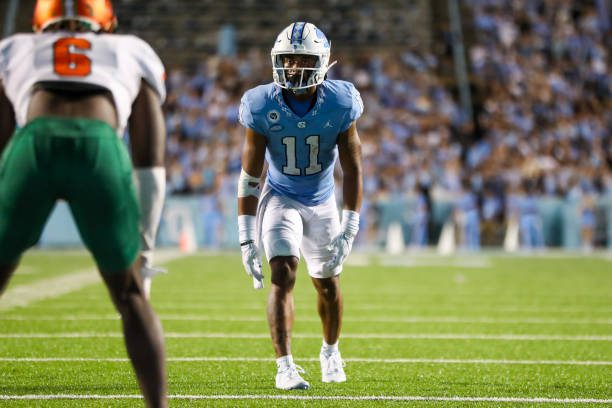 Josh Downs is Going to Wreck NFL Defenses
Reading Time:
3
minutes
North Carolina's Josh Downs shows he has what it takes on game film.
This wide receiver (WR) showed it on his 2021 game film, and it showed it again on his 2022 game film as well.
What exactly did he show?
Downs showed he has the tools to rip apart secondaries at the next level.
This one excites me.
Downs is tough to keep up with
It's downright fun watching Downs on game film.
Notice, I didn't say cornerbacks are having fun trying to cover him, because only elite level corners would have a prayer.
Often lining up in the slot, and sometimes out wide, what makes him special is his razor sharp change of direction, and how he accelerates coming out of the route break points. He can slam on the brakes at full blast and hit the gas pedal in another direction at the short to intermediate route levels.
It's like Downs works for a window company he creates such large throwing windows for his quarterback to throw to.
Downs darts here, he darts there, he darts everywhere. This is starting to sound more and more like one of those old Dr. Seuss books.
Good luck to NFL cornerbacks being able to keep up with Downs.
Downs is an ideal No. 2 receiver, and that means the other team's top corner will be busy covering the No. 1.
Great hands and catch radius
When you combine the kind of speed, quickness and athleticism Downs shows on game film with great hands – – it's hardly even fair.
Armed with a 78% catch rate in 2022, which is up from 69% in 2021, the numbers say he is gaining even more confidence in his hands.
He additionally shows an outstanding catch radius, great concentration and he can highpoint the ball well against tight coverage.
Said another way, he can go get it.
First-round talent all day long
I have a better chance of becoming an astronaut than Downs has of getting out of the first-round.
He's got first-round sprayed painted all over his game film.
In many ways he reminds me of this draft's version of former Ohio State receiver Garrett Wilson, who went to the Jets No. 10 overall as my documented pre-draft WR1. I don't feel Downs is quite as fast deep as Wilson and he doesn't have quite the same yardage-after-the-catch game, but it's in the neighborhood. Wilson is a 4.38 (40-yard-dash), and Downs is said to be a 4.47.
Where might Downs end up?
In terms of team needs, I go to what NFL.com posts. I figure they are most piped into team management in terms of putting together needs.
Based on their most current list, and based on the current draft order, I could see Downs going to Tennessee (No. 11), New England (No. 14) or the New York Giants at No. 25 (all three teams WR is listed as a need priority).
Downs would be a sweet compliment to Titans' big wide-out Treylon Burks and oh wow if Giants' Head Coach Brian Daboll (whom I love) got him to go along with quarterback Daniel Jones.
#11 Josh Downs 5-foot-10, 175 pounds
Daniel Kelly's Final 2023 NFL Draft Grade: First-Round (I would select him)
Projected by 40.7% (down from 47.7% on September 28) of the NFL Draft Community as a first-round pick as of January 26, 2023 (nflmockdraftdatabase.com)
First Round Mock Big Board: TBD
Level of competition: High
2022 game film reviewed: Wake Forest, Notre Dame, Clemson and Miami (click to view games watched to form this evaluation)
2021 stats: 101 receptions (148 targets with a catch rate of 68%) 1,335 yards (13.2 avg.), 8 TD, 63-long
2022 stats: 94 receptions (120 targets with a catch rate of 78%) 1,029 yards (10.9 avg.), 11 TD, 43-long
2023 NFL Draft Scouting Report
Sure-handed dynamic quick change of direction receiver with above average straight-line speed. Ideal No. 2. Fast release who is sharp and crisp snapping off polished looking routes. Good at setting up corners. Excellent at creating separation. Shows short-area burst. Dependable hands. Caught about everything thrown his way. Flashed skip move. Slippery after the catch. Helps decoy to clear out areas for other intended receivers. Not afraid to mix it up with corners. Has toughness, attitude and physicality. Didn't show a deep game, but he did in 2021. There's no backdown in him blocking in the run game.
Final words
Downs makes it look easy, which is a sign of greatness.
Daniel Kelly is a former NFL Scout with the New York Jets. He was hired on the regime which featured Bill Parcells, Bill Belichick, Scott Pioli, Mike Tannenbaum, and Dick Haley. He currently writes for Sports Illustrated New York Jets and he is the Editor-in-Chief for First Round Mock. For more information about him visit his website at whateverittakesbook.com. He can be followed on Twitter @firstroundmock.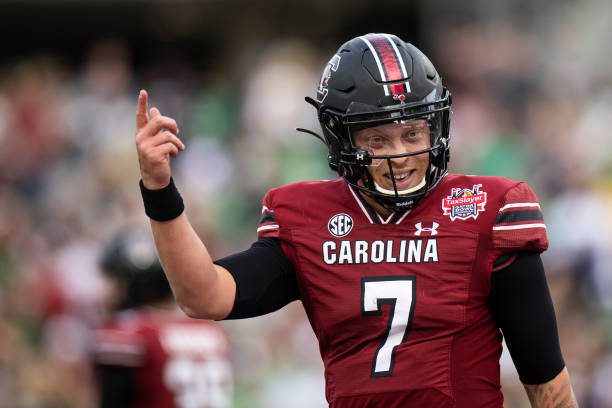 Reading Time: 3 minutes Find out what game film reveals about South Carolina quarterback Spencer Rattler.