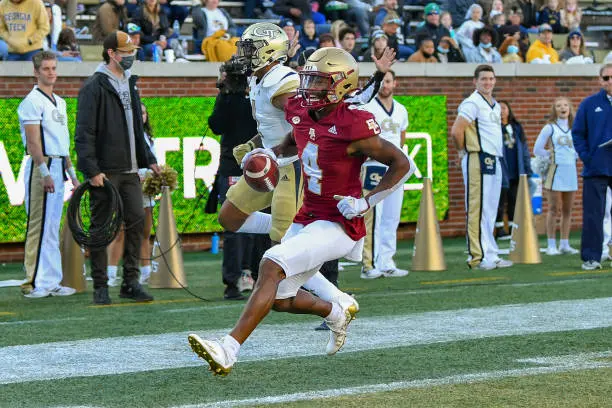 Is Zay Flowers Deebo Samuel 2.0?
Reading Time:
3
minutes
I know, I know…San Francisco's Deebo Samuel is 6-foot-0, 215 pounds and Boston College's diminutive receiver Zay Flowers is 5-foot-11, 172 pounds.
It's not really a comparison or is it?
Maybe not in terms of weight, but it is a comparison worth talking about when it comes to the size of their hearts, toughness and what these receivers bring to an offense.
As a former NFL Scout, I think the world of 49ers' Samuel, so for me to sit here and even mention Flowers in the same sentence means something. It also tells me something as I'm writing it.
Let's also remember Samuel wasn't the world beater he is today coming out of South Carolina in the second-round of the 2019 NFL Draft. Had he come out today, team's would be trading three number one's and lining up to get him.
I credit First Round Mock's very own Nick Martini for pushing me to look at him based on his article on Flowers.
One of the more challenging evaluations I've done
What do you do with a playmaker who shows flaws on game film?
You remember the first part of that sentence and go with that. He's a playmaker.
Sure, I can jump him and point out how he has a lot of trouble high-pointing passes that are too tall because he lacks height, and I can nit pick his lack of a second-gear of speed or he isn't crisp enough at route break points. I can also tag him for how he didn't look good on heavily contested catches.
I also could talk about his 55% catch-rate while at Boston College.
However, there are two sides to every coin.
Flowers additionally has a knack for getting open in the short to intermediate route levels, and he can stretch a defense deep from the slot (with his 4.37 40-speed) like what big-ticket free agent receiver Christian Kirk (whom I love) did down in Jacksonville, and how having that mismatch maker helped the Jaguars get into the playoffs. Kirk was the most important addition to that roster.
Toughness
I like Flower's toughness, don't let the delicate name fool you, he's a tough guy the great late John Madden would've appreciated.
This is where my antenna really went up watching the game film.
Flowers is a scrappy dude who takes what there is to take after catches short who's not afraid of contact. He even showed he's more than willing to mix it up with defenders while run blocking. There's no backdown in this one.
This draft's lottery ticket
There's a reason I buy lottery tickets like most of us do.
Flowers is worth a late first-round pick for a strong playoff roster because he has playmaking ability, and outside of the draft, that costs a fortune to otherwise acquire.
Flowers would be a good pick for the Eagles. He fits that town.
Before I forget, Flowers does have a little "Deebo" running ability in him too even at his size, with 57 college rushing attempts for 345 yards (6.1 avg.). I didn't see Flowers run between the tackles, but he did take end-arounds.
#4 Zay Flowers 5-foot-10, 172 pounds
Daniel Kelly's Final 2023 NFL Draft Grade: First-Round (I would select him)
Projected by 13.4% of the NFL Draft Community to be a first-round pick as of January 28, 2023 (nflmockdraftdatabase.com)
First Round Mock Big Board: TBD
Level of competition: High
2021 game film reviewed: Virginia Tech, Clemson and Missouri (click to view games watched to form this evaluation)
2022 game film reviewed: Wake Forest, Clemson and Rutgers
2021 stats: 44 receptions (83 targets for a catch rate of 53%) 746 yards (17.0 avg.), 5 TD, 49-long
2022 stats 78 receptions (130 targets for a catch rate of 60%) 1,077 yards (13.8 avg.), 12 TD, 69-long
2023 NFL Draft Scouting Report
Pure football player who lines up in the slot with good football speed and phenomenal ball tracking and adjustment skills deep. Good safety valve. Release more quick than fast. Speed builds. Productive at all three route levels. Thrives at the intermediate route level with comebacks because he can drive off defenders and create throwing windows back underneath due to being a deep threat. Knack for finding soft spots in coverage. Tough straight-line runner with the ball in his hand with inconsistent YAC. Can get deep. Got deep separation vs. Andrew Booth (Clemson). Very willing blocker. Dynamic jack-of-all-trades type.
Final words
I just have a feeling about this one.
Daniel Kelly is a former NFL Scout with the New York Jets. He was hired on the regime which featured Bill Parcells, Bill Belichick, Scott Pioli, Mike Tannenbaum, and Dick Haley. He currently writes for Sports Illustrated New York Jets and he is the Editor-in-Chief for First Round Mock.For more information about him visit his website at whateverittakesbook.com. He can be followed on Twitter @firstroundmock.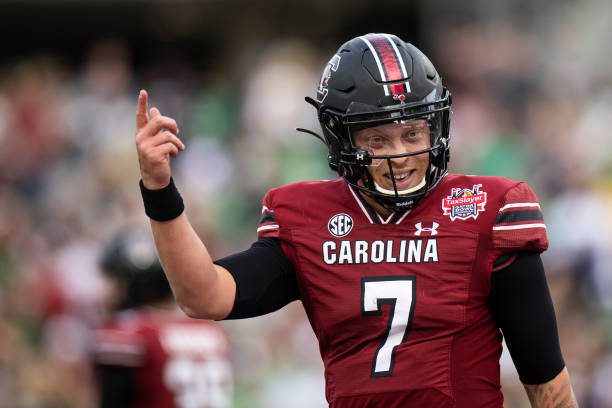 Reading Time: 3 minutes Find out what game film reveals about South Carolina quarterback Spencer Rattler.