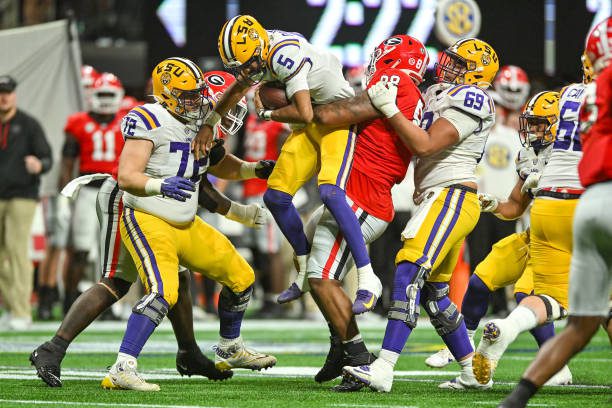 Expect Jalen Carter to be the Best Defensive Tackle in the NFL
Reading Time:
3
minutes
Georgia's Jalen Carter looks like a man amongst boys, on the college football field.
This defensive tackle (DT) combines awesome violent explosive strength with elite athleticism to obliterate blockers.
It's not on every play, but four…five…six…seven times a game, Carter takes over.
In the three games embedded below, I counted 16 such plays.
Carter is the most dominant defender in the 2023 NFL Draft and he's an easy early favorite to win NFL Rookie Defensive Player of the Year.
Carter owns the gaps
While he can get movement straight-up, he makes a living with a lightening quick patented swim move he uses to shoot through interior gaps in the blink of an eye.
It's a well-known fact, the worst pass blockers on every team play on the interior of the line, and the best blockers are on the outsides at offensive tackles.
Carter is going to tear it up against NFL guards and centers. He's like a hybrid between an edge rusher and an interior lineman the way he is built.
Pocket disruption
The name of the game on defense in the NFL is pocket disruption, and this is what Carter brings.
Carter. Pushes. The. Pocket. Hard.
In 10 games in 2022, he produced 25 pressures (nfldraftbuzz.com). In 2021, he posted 33 pressures (georgiadogs.com).
On every snap, he's a threat to blow it up. He uses his violent hands so well and he plays with great technique and leverage. This is why he draws his fair share of double teams, which of course frees up other defenders.
Georgia liked to move him around, sometimes even lining up at end, sometimes even standing up off the edge.
Carter is a force to be reckoned with. He's a dynamic game-changing difference-maker worthy of the top pick in the 2023 NFL Draft.
What are we talking about here?
He's the most dominant defender to come in the league since Myles Garrett and from the first time I saw him play in 2021, my first thought was Minnesota Vikings' Hall of Fame DT Alan Page.
There are people out there who said Carter was Georgia's best defensive lineman in 2021 back when edge Travon Walker and DT Jordan Davis played there. He was, and it wasn't even close. I had a second-round grade on Walker and a fifth-round grade on Davis.
How's Carter against the run?
He's got powerful thick lower legs to sink down and hold his ground.
Carter can toss guards around like rag dolls.
He can lock out at the point of attack, come off blocks, and hammer running backs inside.
Hustles
One of the most impressive parts of his game is his effort.
Carter is not one of these guys who will just hang out between the tackles while catching his breath.
He will chase out to the sidelines and even way downfield.
Should we be concerned about the MCL?
Let's address the elephant in the room – – the MCL injury that caused him to miss five games in 2022.
Is it an issue?
Carter bounced back and produced his strongest statistical games of the season afterwards.
I don't think it's an issue.
#88 Jalen Carter 6-foot-3, 300 pounds
Daniel Kelly's Final 2023 NFL Draft Grade: First-Round (top-5 and I would select him)
First Round Mock Big Board: TBD
Bust Probability: Low
Projected by 98.2% (up from 96.8% on September 18) of the NFL Draft Community to be a first-round pick as of January 21, 2023 (nflmockdraftdatabase.com)
2022 game film reviewed: Tennessee, Florida, and LSU (click to view games watched to form this evaluation)
Level of competition: High
2021 stats: 37 tackles (17 solo, 20 assists), 1 pass defended, 3 sacks and 33 pressures.
2022 stats: 32 tackles (16 solo, 16 assists), 3 passes defended, 3 sacks and 25 pressures.
2023 NFL Draft Scouting Report
Athletic violent brute interior force of nature with long arms who brings it against the pass and run. Toys with guards before rocking their world with his signature cat-quick swim move he uses to open the door for himself to create explosive pocket disruption. Can hunker down against the run, but showed inconsistent shed. Often getting into the stop, or at least ending up by the pile. Blockers tie him up sometimes. The biggest "negative" is he doesn't bring it on every snap while setting things up to strike. It was fun watching him on game film.
Final words
Carter will need to get fitted for a yellow jacket when it's all said and done.
Daniel Kelly is a former NFL Scout with the New York Jets. He was hired on the regime which featured Bill Parcells, Bill Belichick, Scott Pioli, Mike Tannenbaum, and Dick Haley. He currently writes for Sports Illustrated New York Jets and he is the Editor-in-Chief for First Round Mock. For more information about him visit his website at whateverittakesbook.com. He can be followed on Twitter @firstroundmock.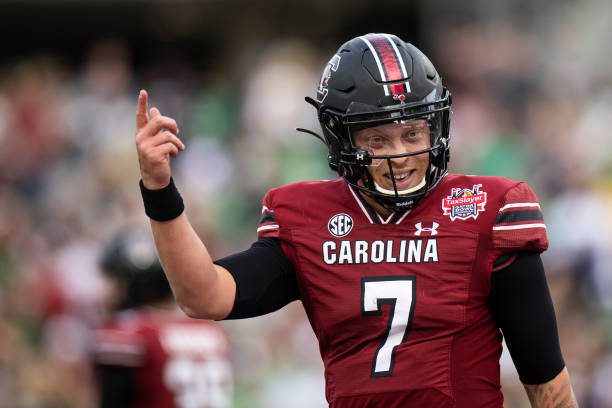 Reading Time: 3 minutes Find out what game film reveals about South Carolina quarterback Spencer Rattler.